Hi my friends! I'm sharing another card design using the adorable Autumn Fox by Whimsy Stamps. I cannot get enough of him, this is my 4th time coloring him! You can check out the first time I used in a card project here. He's a digital image that I purchased specifically because; (1) he's just too cute and; (2) digital images are a great way to practice Copic coloring.
For my cards today, I paired my little fox with pattern papers all from Honey Bee Stamps and added a little black cardstock to the mix and I really think that added a "wow factor" to these cards! I love how they turned out. I also included stickers from Penny Black which I also love so much and have used before. Her images are stunning.
Now for my sentiment, I decided to use Waffle Flower Crafts "Autumn" stamp set. I inked it with Pinkfresh Studio's "Doe" ink (my favorite brown color) on white cardstock and then distressed the edges with a blending brush. Then I trimmed it down to fit in the upper corner of my cards. Layering pattern papers and mixing them with other elements is my jam!
If you're wondering what Copic markers I used to color my fox, just click the link above to my 1st card that I made with him because I used the exact same colors.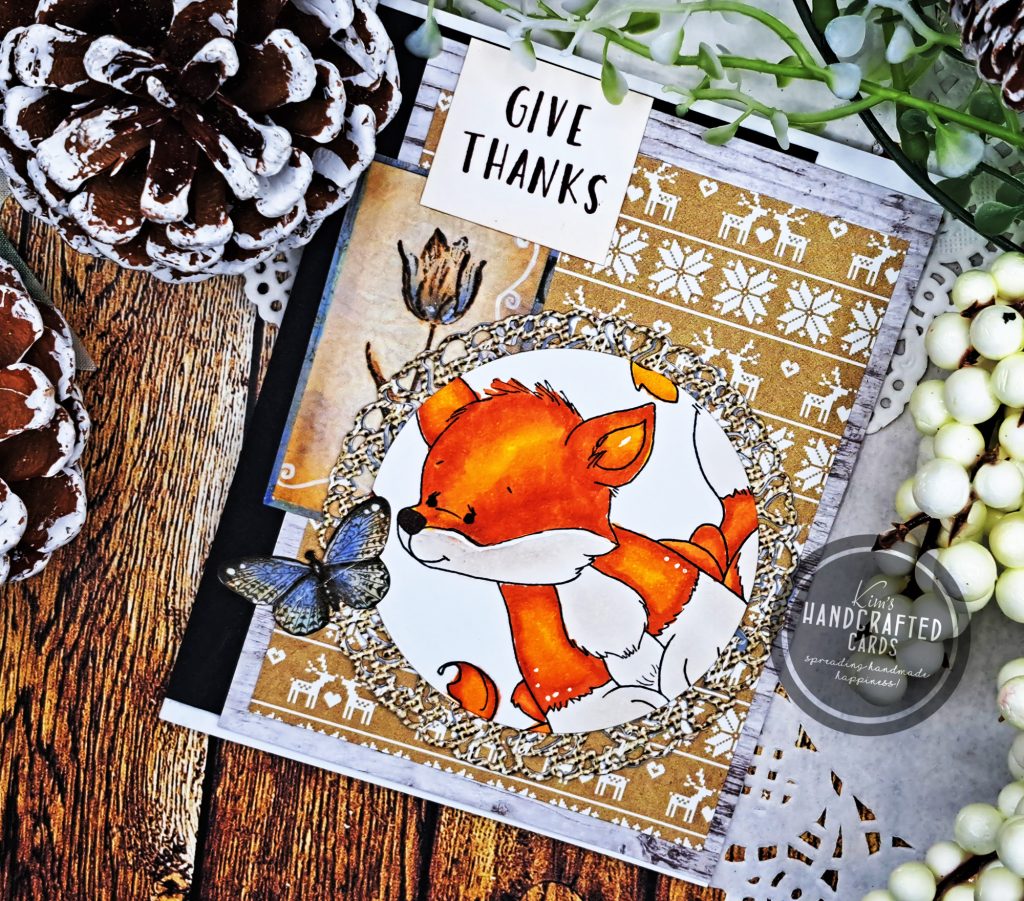 In the top card, I die cut my fox with a heart circle die on pattern paper. The butterfly is a sticker from the Penny Black set. In the card below, I fussy cut my fox. You'll notice my mistake in this card… I forgot to ground my fox so it looks like he's floating in mid-air! Oh well… I didn't even notice that till I was writing this post. I was going to add some grass for him to sit in but completely forgot! Hope you'll overlook that! :O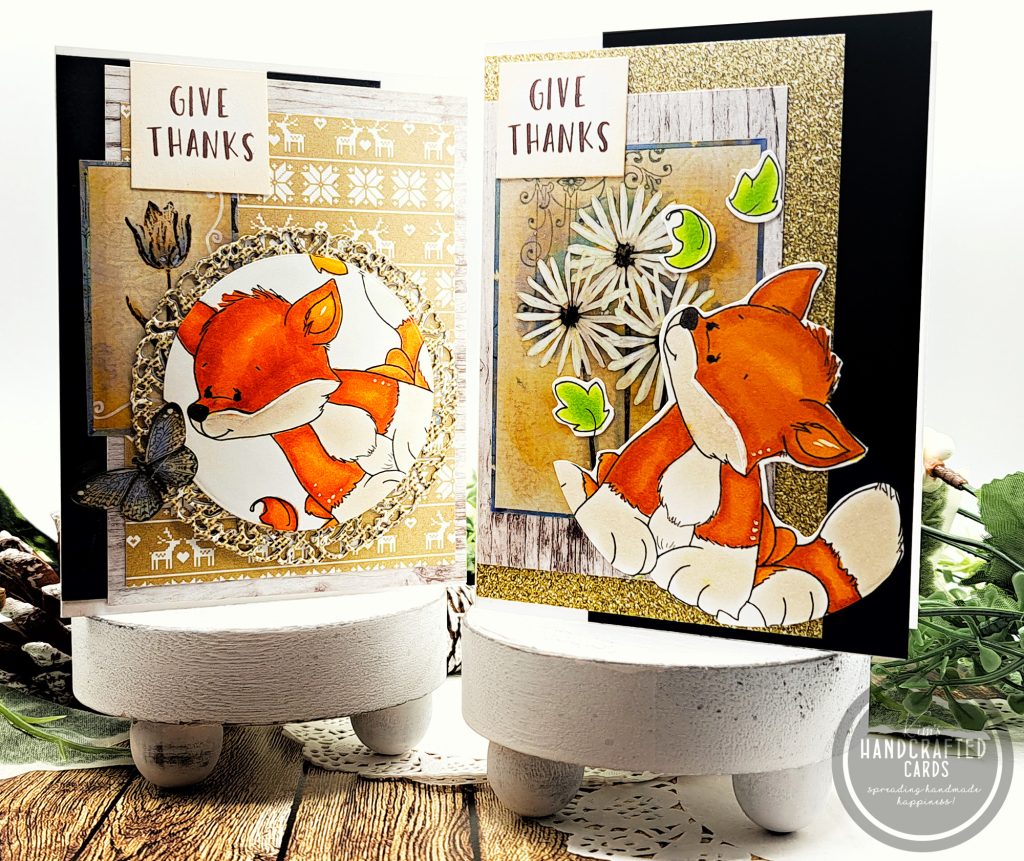 Can I take a minute and talk about these stands?! I'm always looking for props and backdrops for photo taking and when I caught another cardmaker using stands like these to shoot her cards, I FELL IN LOVE! First off, I love white distressed wood and secondly these look so much like the cake 2-tiered tray in my kitchen. So, I went online looking for stands like this and some were incredibly expensive. You guys know I shop with a tight budget so I dug deeper and found these on Amazon in a 2-pack for $12.99! Now, the price may vary depending on when you see this post so keep that in mind.
These stands (risers) are 4″ x 4″ so they're very small but just large enough for my A2 cards to sit on. I'll have a link below if you're interested in purchasing these for yourself. You'll be seeing many more photos with my cards on them.
Thanks for Reading!

Some of the links to the products I used are affiliate links which means that when you shop with them, I'll receive a small commission at no extra cost to you. Your support helps me run my small crafty business. Thank you so much!