Coloring with Inks, markers and other mediums are the crux of cardmaking. We use it to stamp images, color die cuts, make backgrounds, add finishing touches, and even to do techniques like ink blending, distress resist, heat embossing, dry embossing and foiling to name just a few.
Jump to my Other Crafty Favs!
---
I've broken this page into several sections and keep in mind, this list contains ONLY the inks and color mediums in my stash, but in no way suggests they're better than other craft company's inks. These are just the ones I have.
Also, I buy all my supplies so none of my tools and supplies were given to me by any brand company.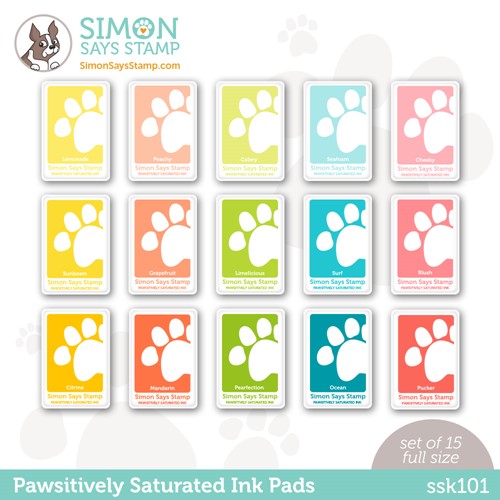 Simon's 1st generation of inks. I bought this collection and I absolutely love it! This collection was released as part of their annual "Stamptember" Party I believe in 2021. These are foam ink pads which means you don't need to use a lot of pressure when stamping as with felt pads. The colors are bright and pretty! They stamp so well and I also did some ink blending with them too.
I purchased the bundle of the entire 15-collection, however they come in pairs of 3. The colors included in this set are: Cheeky, Blush, Pucker, Peachy, Grapefruit, Mandarin, Lemonade, Sunbeam, Citrine, Celery, Limelicious, Pearfection, Seafoam, Surf and Ocean. Another thing I love is they come in light, medium and dark which is perfect for layering stamp and stencil sets.
Where to Purchase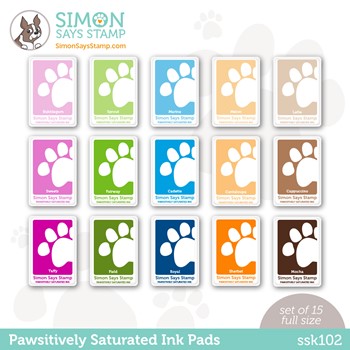 Simon 2nd Collection set of 15 Inks adds new vibrant colors to the Simon Says Stamp Pawsitively Saturated Inks Collection. Colors included in this set are: Bubblegum, Sweets, Taffy, Marine, Cadette, Royal, Sprout, Fairway, Field, Melon, Cantaloupe, Sherbet, Latte, Cappuccino, and Mocha.
Where to Purchase
Simon released their 3rd set of Pawsitively Saturated Inks in February 2022.
The colors included in this collection are: Guava, Watermelon, Cherry, Carnation, Peony, Rose, Tidepool, Tropic, Aegean, Aspen, Sage, Pine, Spring, Dublin and Lucky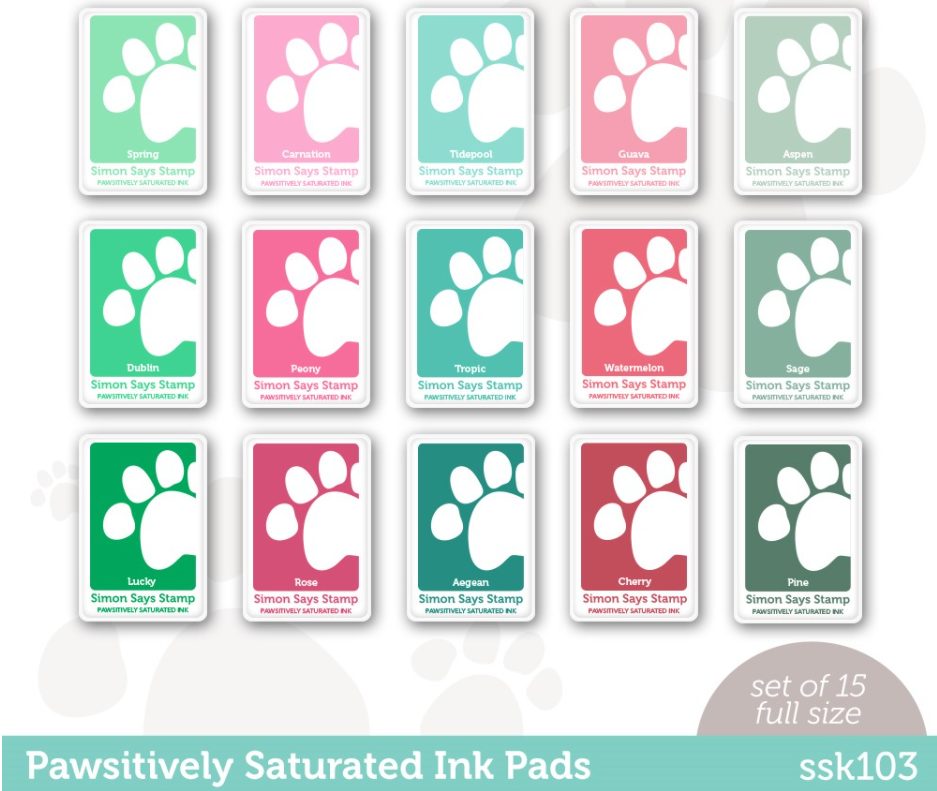 Where to Purchase
---
Pinkfresh Studio Inks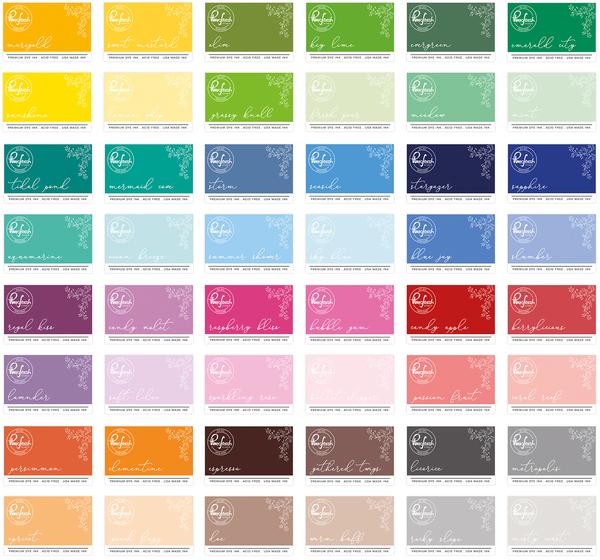 I was fortunate enough to get the entire bundle of full ink pads last year and I LOVE THEM! They also come in ink cubes too if you want to save some $$$!
First of all, they come 4 colorways from lightest to darkest and that makes it perfect for stamp layering. NO more trying to figure out which colors works best for blending.
These inks stamp so bright and clear. My favorites that I reach for a lot are the bubblegum colors, marigold, berrylicious and mermaid but I love all these colors and I highly recommend them!
More info about these inks on Pinkfresh Studio's website → here!
---
Hero Arts Inks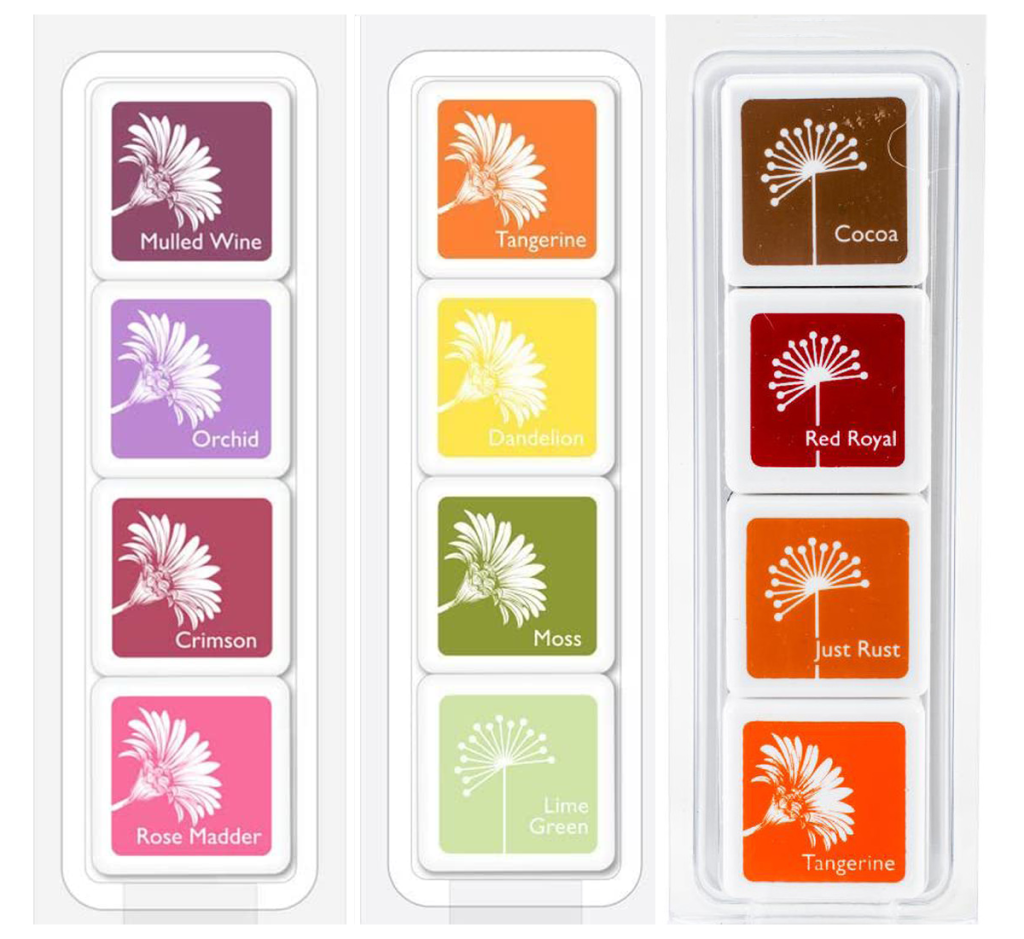 These ink cube sets I got from previous Hero Arts Card Club Kits. They are so vibrant and work well together, I've used them a lot. I also have some other colors of Hero Hues but I don't own their entire ink collections.
Ink cubes are awesome to use for direct to paper techniques or to get into small spaces with color and the price points are lower to help us save $$. If you're like me and you buy all your own supplies, you appreciate any savings you can get in this hobby!
Even though these 3 sets of ink cubes came in previous kits, they are available on Amazon as well as the Hero Arts website. I've got links to both sources.
Where to Purchase
---
Simon Says Stamp Inks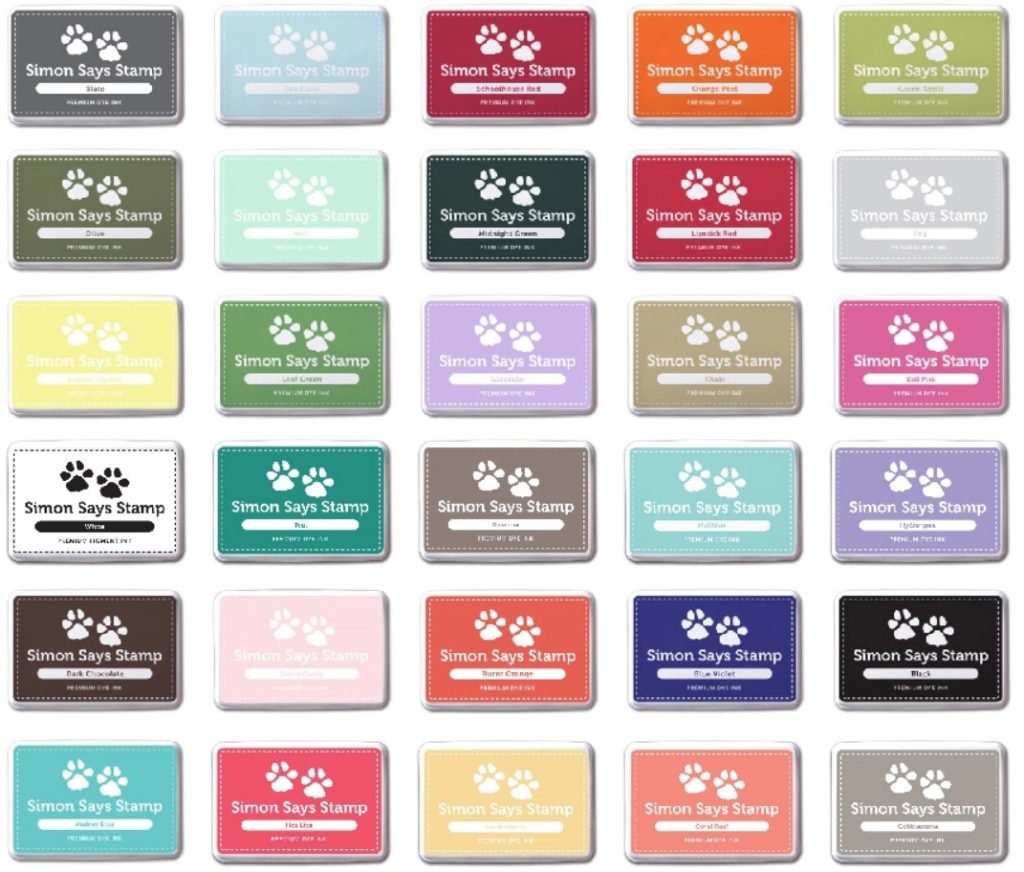 I have a lot of Simon's inks but not all YET! PLUS!, I've got my eye on their new "Pawsitively Ink sets" which I plan to order very soon!
When I first got started in cardmaking these were my first inks. They work well for stamping and ink blending.
In fact, their black ink is one of my favorites for stamping sentiments and for copic coloring. I also love the fog ink as you can have a light background design with it. One of the other colors I use for sentiments is Khaki. It's a really nice rich brown color.
Find all their inks on Simon Says Stamp's website
---
Gina K. Designs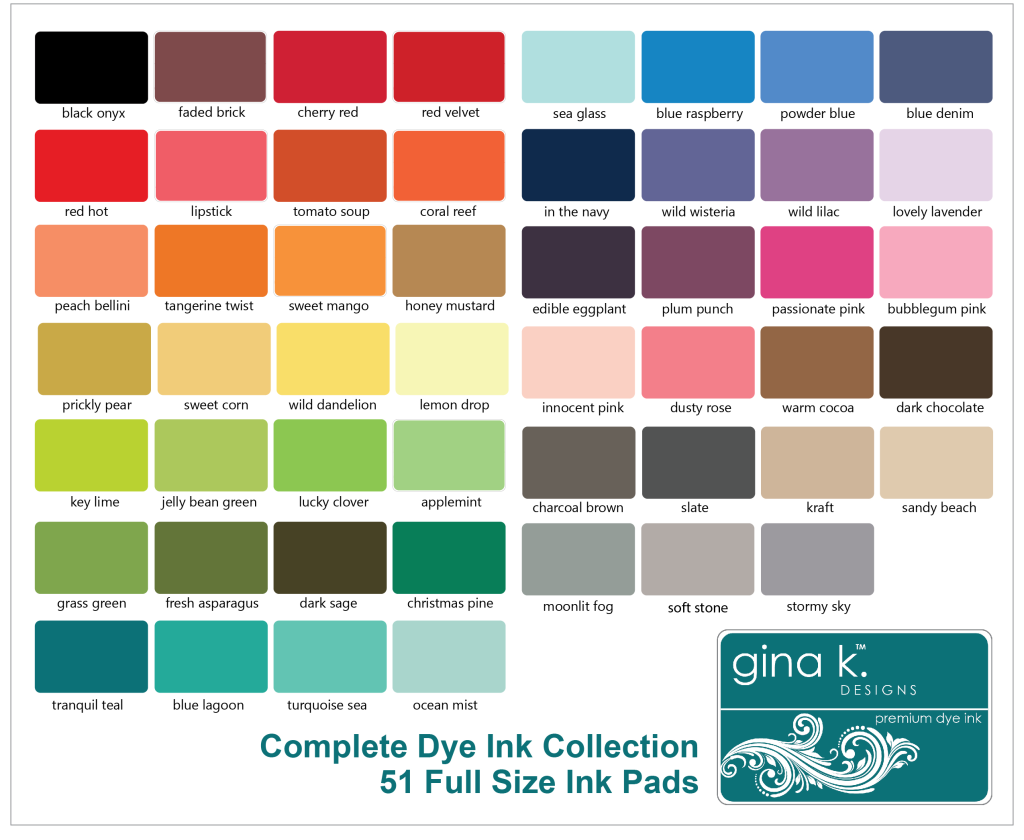 I have a few of Gina's ink cubes and I love all her colors + she matches her cardstock papers to her ink line. One of the inks of hers I love for Copic coloring is her Amalgam black inks. She has a Jet Black ink pad and the Obsidian Amalgam ink pads.
Purchase these inks on Gina K. Designs website
---
Concord & 9th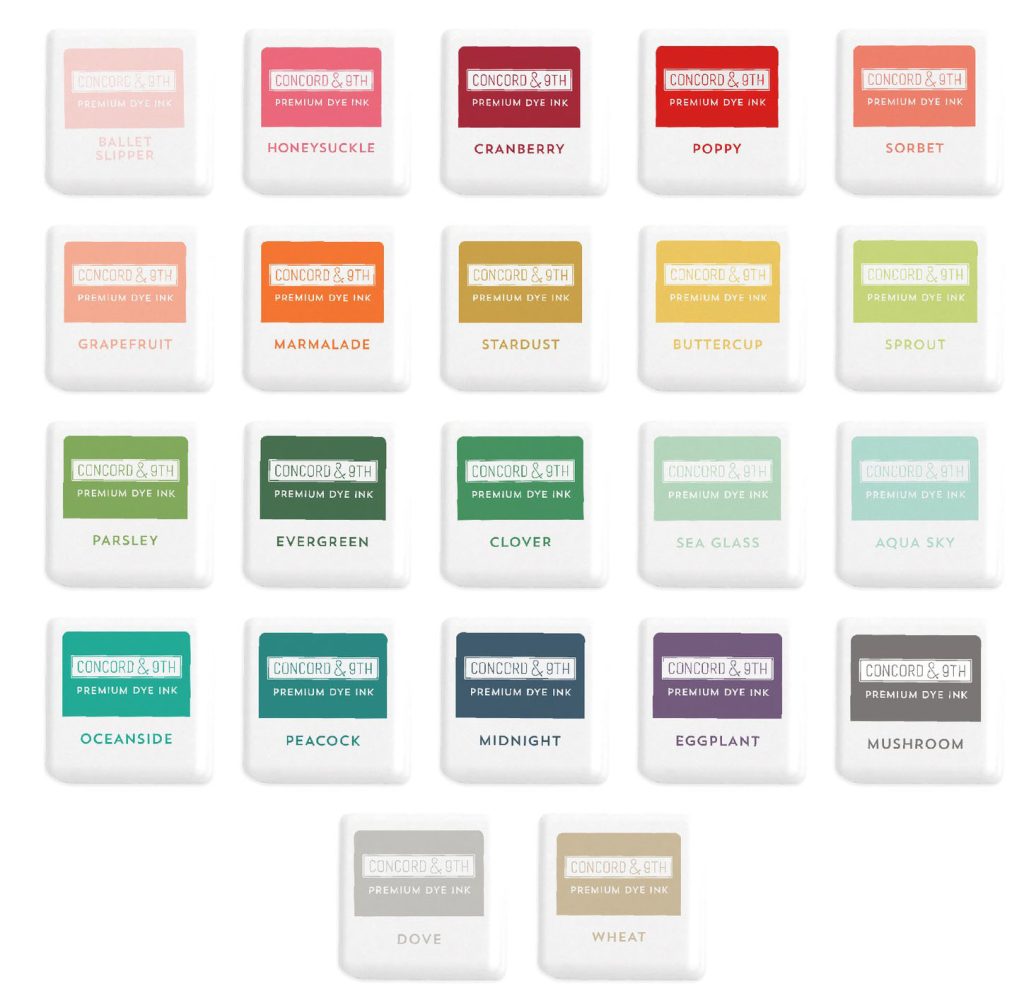 Concord & 9th introduced their first line of inks a few years ago and though it is a dye ink, it's on a foam pad rather than felt. That means it doesn't take a firm hand to release the color onto the paper. These inks come in full size pads and ink cubes but at the time, I bought the cubes as it wasn't in my budget to get the full ink pads.
I love these colors and they blend well together. Plus, C&9th included the labels for each cube/pad which I really appreciate! UPDATE: C&9th introduced a new line of inks, more information here.
Visit Concord & 9th for more info
---
Tim Holtz Distress Lines of Inks

I so, so love working these inks for techniques, ink blending and especially watercoloring! I own a BUNCH of the traditional and Oxide inks and I use them both! The Oxide inks are even better for ink blending as they have a pigment and dye formula.
What I also like is that many of Tim's distress inks comes in different bundles so you can get more for your bucks. And he comes out with different colors as well.
Where to Purchase
---
Catherine Pooler Inks

When I first got started in cardmaking, I didn't have many inks and wasn't sure what to buy. It took me awhile to finally understand that to be a crafter and have success making cards, you don't need every ink in the world. Many crafty friends have said, to find one ink line that you like and use it alone.
I bought a few of Catherine Pooler inks, because I had heard so many great things about them. Her ink pads are on foam as well as Concord & 9th's but hers I found are even more "squishy" LOL, I guess I should say. It doesn't take a lot of pressure at all to apply her inks to the cardstock. The colors are bright and cheery. I don't use these as much because I'm so used to felt ink pads. However, I do like all her colors!
Where to Purchase
---
Copic Color-Friendly Black Inks