Have you ever messed up making a card and thought you'd have to throw it away? If you're a cardmaker or paper crafter, you know exactly what I mean! Now, I mess up cards all the time but typically, they can be remedied by adding some sort of embellishment to cover up a mistake.
What I'm talking about is a mistake that there's no way to recover from it like staining a card with too much paint splatters or bumping into some dark colored Nuvo Drops smearing the card. In past, I would have gotten so upset and just threw the card away angry.
But, I had done so much to these 2 cards that I just couldn't quit. I'll tell you what happened and what I did to recover shortly but first let's talk about the products I used:
For both cards, I wanted to use Spellbinders April 2021 Small Die of the Month (SDOM). I signed up for their LDOM (Large Die of the Month) and SDOM at a really good price for a few months. Spellbinders has some of the most beautiful dies and I just love them. Anyway, I was watching a YT video from Tina of Cards and Coffee where she used Spellbinders November 2021 card kit similar to the one April kit. I had to try it replicate her card!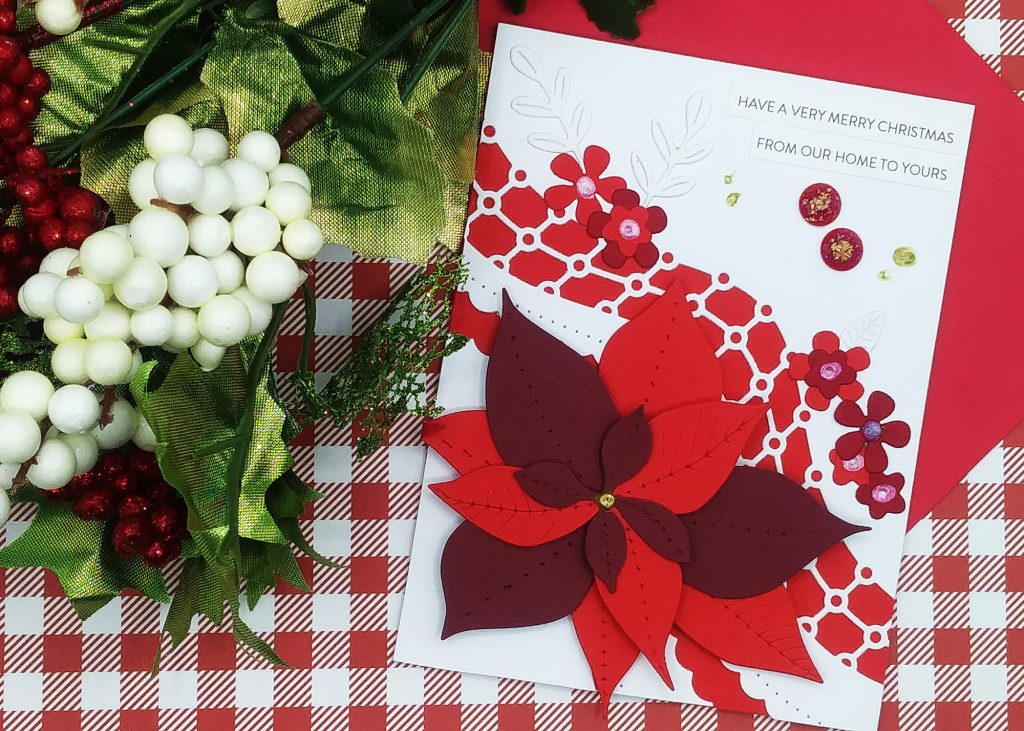 I used 3 dies from the April kit die cutting them on white cardstock where I positioned them to slant off my card panels (you'll see I flipped the angles for each card for interest). I used Simon Says Stamp's Red cardstock for my card bases. Once I finished die cutting, I glued them onto the card bases.
The April kit SDOM also came with these cute little flowers and leaves. I die cut them in shades of red and the leaves on white cardstock and glued them down.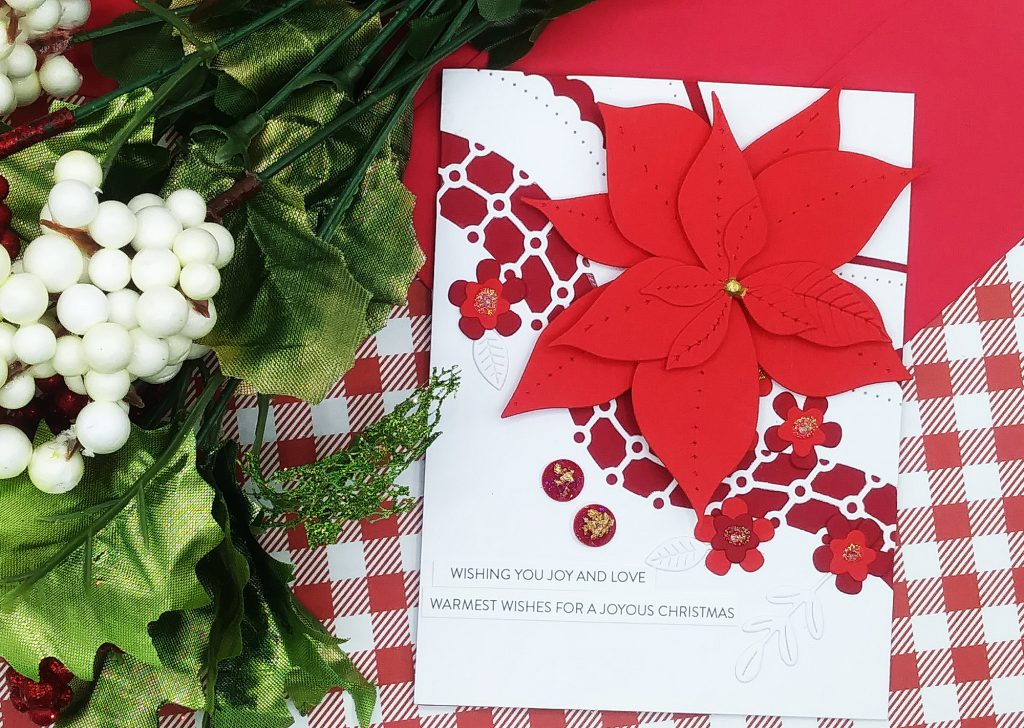 For the centers of the small flowers, I used white Nuvo Crystal Drops and for the poinsettias, I used Bright Gold Nuvo Crystal Drops.
I topped the cards with some enamel dots from the Spellbinders "Merry Everything" Christmas card kit from 2019. The sentiment strips are from Simon Says Stamp. The cards were looking great at this point but…
What Went Wrong?
Me and my perfectionist side is what went wrong! I go through this a lot! I get to the end of the card design and look at it and that feeling comes on me that says, "there's something missing, you should add something else…" And sometimes that's true, but not always. These cards would have been fine, but I decided to add some more gold Nuvo drops to other areas of the cards and as soon as I added a few of them, I knew I didn't like it, it didn't fit the card design and now I was stuck!
Then, I made it worse by trying to strategically remove the drops and that's not possible to do, but I tried anyway and it worsened the situation! Now, I've smudged the drops into the paper and it really looks bad! At first, I thought about chucking it and starting over but instead, I put the card down and walked away. I went to the kitchen and the bathroom for awhile to do something else.
All of a sudden as I was away from the craftroom, The Lord Jesus reminded me that I had made a few poinsettias a week ago that I was holding onto for future cards. I'm a faith-based girl so I pray A LOT! Anyway, that was the answer!!!! The poinsettias are from Altenew's "Beauty Within" collection. I got the stencils, stamps and dies. There's 4 layers to the poinsettias in the die set and they are so realistical looking!
To make the poinsettias, I just used the dies with the same red cardstock papers from Simon. I added foam tape under each layer of the petals to make them have dimension for a 3D look and because they're large, they were the perfect fix and addition to my cards! I even think they gave the cards New Life! I did add the gold Nuvo drops to the centers of the poinsettias.
I put them on the edges of both cards and it was like they were made to go together! You will see some gold Nuvo drops on one of the white areas of 1 card, but the one I really messed up is completely hidden behind the poinsettia! My cards were SAVED!!! You should have seen my joy!
This experience taught me 2 great and valuable lessons:
Do I really need to add more to a finished card design? Be sure the card needs something extra before adding another embellishment and use some scrap piece of paper first to see if I like it before adding it to a card. Sometimes less is more!; and
Don't just throw a card away. If I goof up on a card, put it down, walk away and come back later to it. Taking a break not only calms me down, but other ideas can pop into my mind that can salvage the card and make it even more beautiful in the end.