If you know me well, you know I love a good pattern paper pack and especially if it has a vintage feel. I so love anything rustic, distressed and farmhouse.
This particular collection from Simple Stories got me so excited that I rushed to buy the paper pack but also the "Woodland Bits" (comes with 39 pieces) and the "Bits & Pieces" (comes with 56 pieces) from this release. The paper pad comes with 24 double-sided sheets includes 4 designer prints and 2 greeting card element sheets.
And, I used a lot of these for my 2 cards. I went with the traditional red and green using my favorite ways to make a card and that's to layer up different patterns for dimension.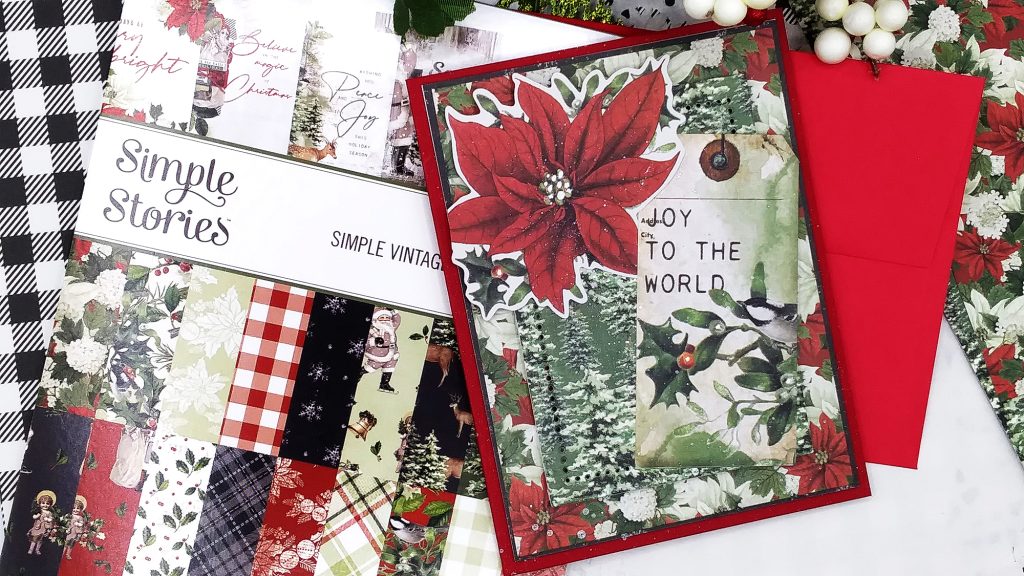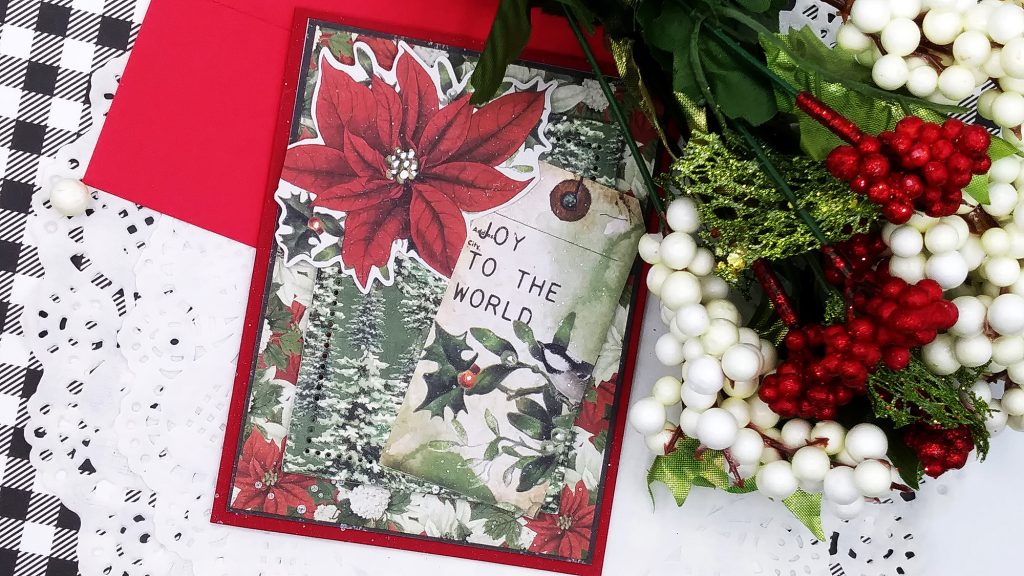 For this first card, I used Simon Says Stamp's "Schoolhouse Red" cardstock for my card base. After that, I used the poinsettia, black stars pattern papers from the SS collection. The black Stars as trimmed down to 4″ x 5-1/4″. But I trimmed the poinsettia paper to just slightly smaller (about 1/8″ smaller). I wanted a thinner border.
The next layer (the green trees) is quite small, about 3-1/2″ x 4-1/4″ and I added white cardstock in the same measurements behind it to prop it up.
It was time to add some of the bits and pieces which I used the "Joy to the World" tag and poinsettia to frame my design using Bearly Art liquid glue. Also, not pictured, but I added a white cardstock piece inside since the red is very bright and it would be hard to see a personal message. I trimmed this piece to 4″ x 5-1/4″.
Also, I used my #10 white Gelly roll pen to emphasize the center of the poinsettia.
---
For my 2nd card, I did a LOT more work to, because I wanted to make a window frame with a scene behind it 🙂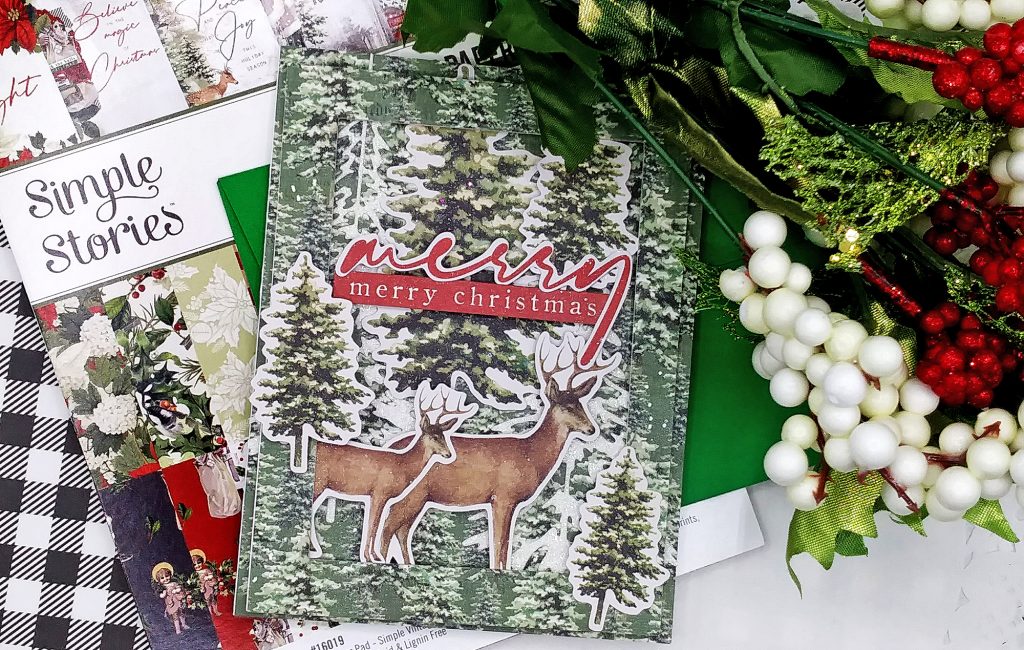 For my frame, I took the negative space left from when I die cut the center for card #1. I added some double sided foam strips from Darice to make it appear it's floating. Also, it was trimmed to 4″ x 5-1/4″ so that it also has a seamless look.
Before I added the frame, I had to build my scene behind it. First up, I trimmed the 2nd sheet with the trees to A2 size and adhered it to my card base. Next, I die cut some trees with one of my favorite dies, Sizzix Tim Holtz Alterations Woodlands Trees Die Set. I die cut 2 trees with Memory Box Delicate Pastel Glitter paper. I glued those down to my card base just to the side of the pattern paper design.
From the bits and pieces, I added 2 more of the trees, one was smaller and the other larger. I wanted to have some that looked closer than the other trees. Then, I just had to include the 2 deer to the bottom of the card, they are darling!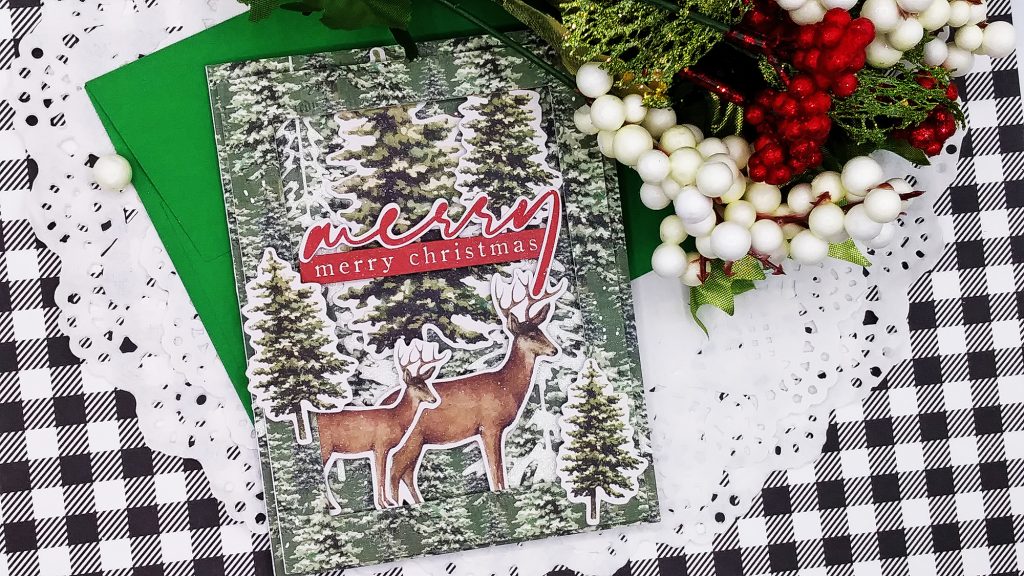 Now it was time to adhere the window frame over the card. After that, I added more small trees on the frame with more foam squares on both for a little more dimension.
It was time to add the sentiments, also from the bits and pieces, and it's got foam tape behind it too. Both these cards have serious dimension and stand up nicely. I think they'd make a great keepsake as well!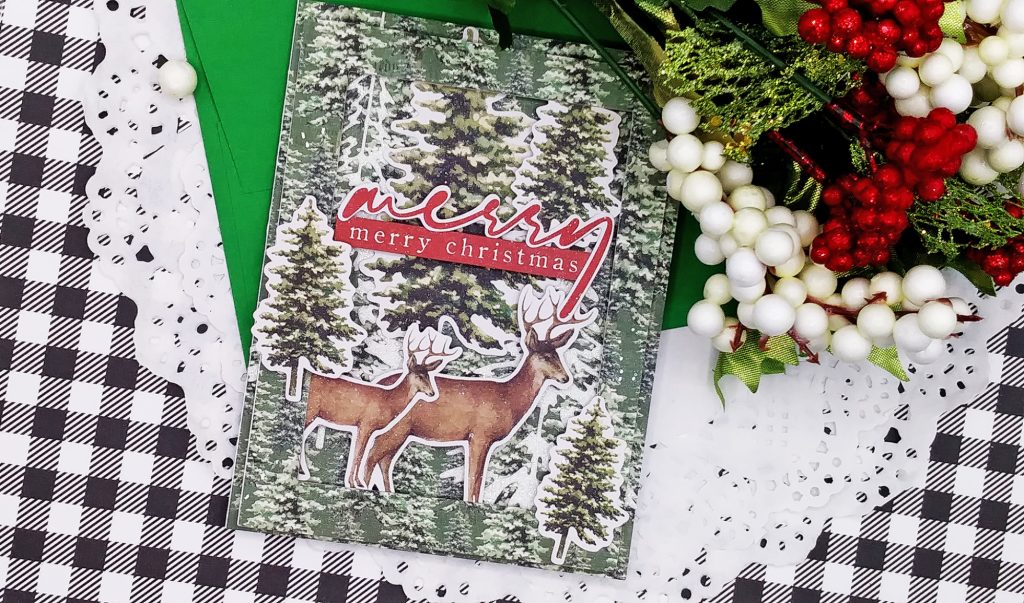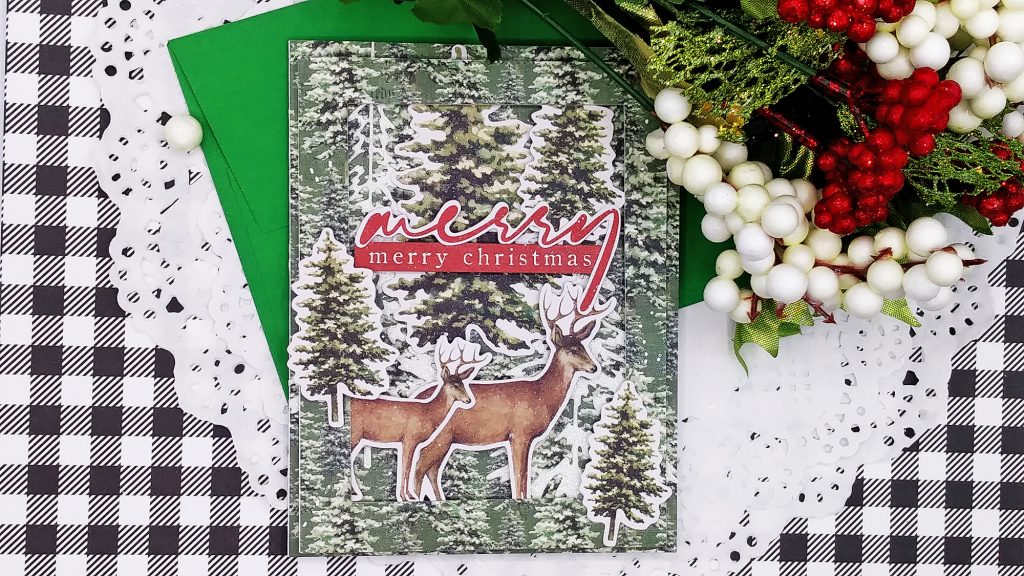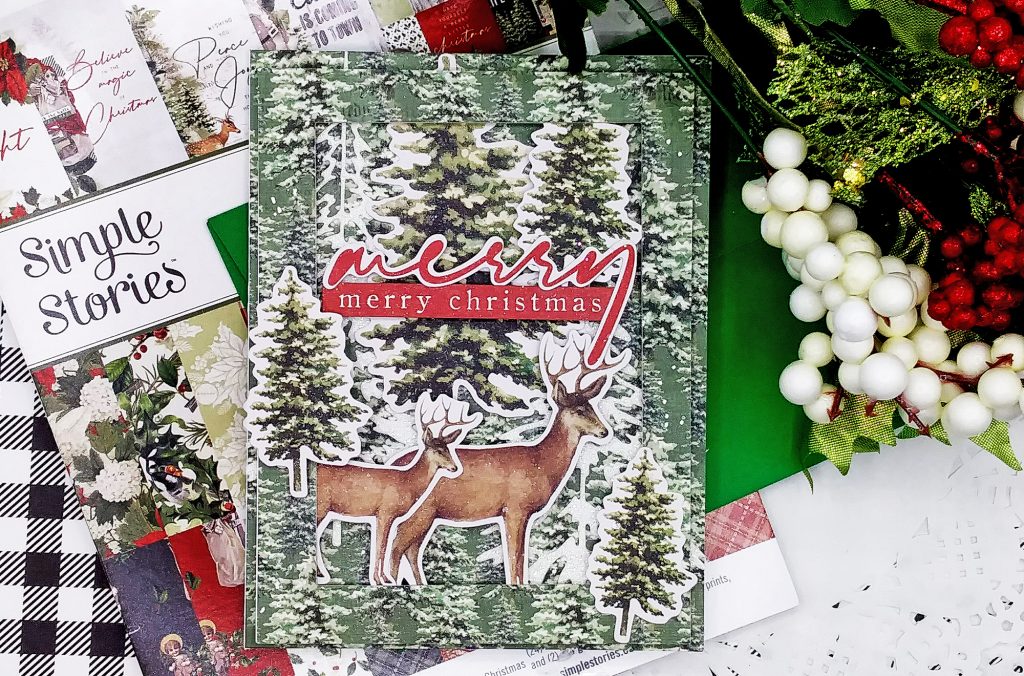 To finish both cards off, you know I had to spray them down! I used Hero Arts Shimmer Spray and used my glue duster with Distress Glitter. I added some touches with my #10 white Gelly roll pen as well.
I love the red from the sentiments, I think it really gives the card a nice contrast and ties everything together. You know I'm not a big scene cardmaker, but I have to say I really enjoyed designing this card!