When I first saw this collection on Yana Smakula's YT channel this past April, I was totally in love. I love watching birds in real life and I love birdhouses! Combine that with die cutting and I'm a happy crafter! Yana used these dies in really creative ways and I highly recommend watching her video here.
What I also love is that there's a birdhouse builder die set for all 4 seasons. So, I purchased all 4 including the birds (sold separately).
There's also sentiment stamp set to go along with this collection, but I don't have that. I also bought the mini blooms and sprigs die set though I didn't use that for these cards today, but in case you're interested in it, I have a link for that and all these products in my "Shop this Post" section.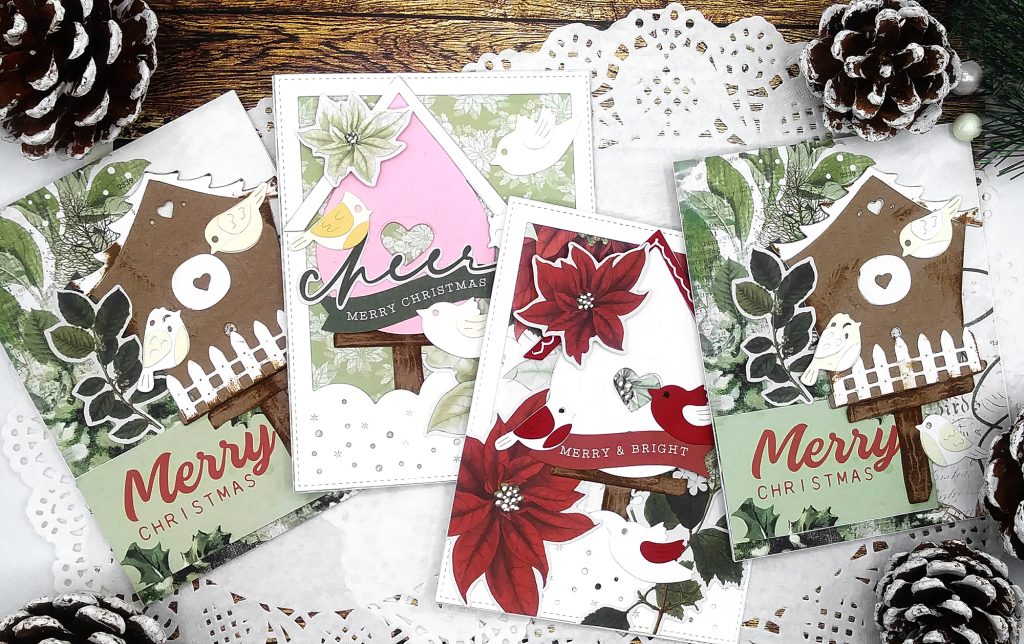 I wanted to use the winter birdhouse for some Christmas cards, but I also used the Spring birdhouse too. It was a load of fun die cutting all the birdhouse pieces, the birds themselves and mixing and matching with Simple Stories Vintage Rustic paper collection that I'm having a lot of fun with.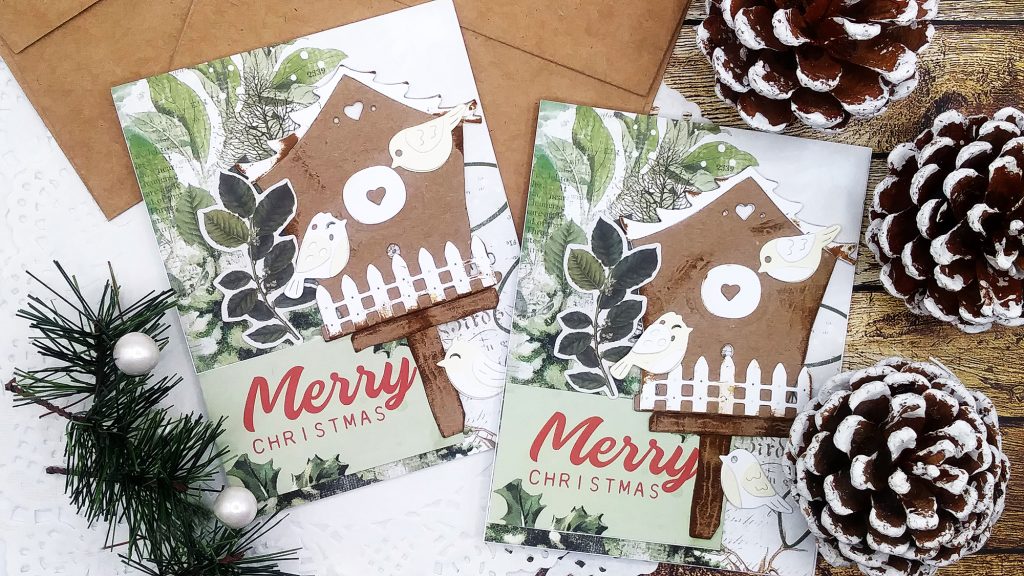 Two of these cards are almost identical except I switched up the birdies a bit. But I wanted these to have a really rustic feel so I added some "Vintage Photo" Distress ink to the part of the front, sides and edges of the birdhouses, the white fence, roof and especially the stand.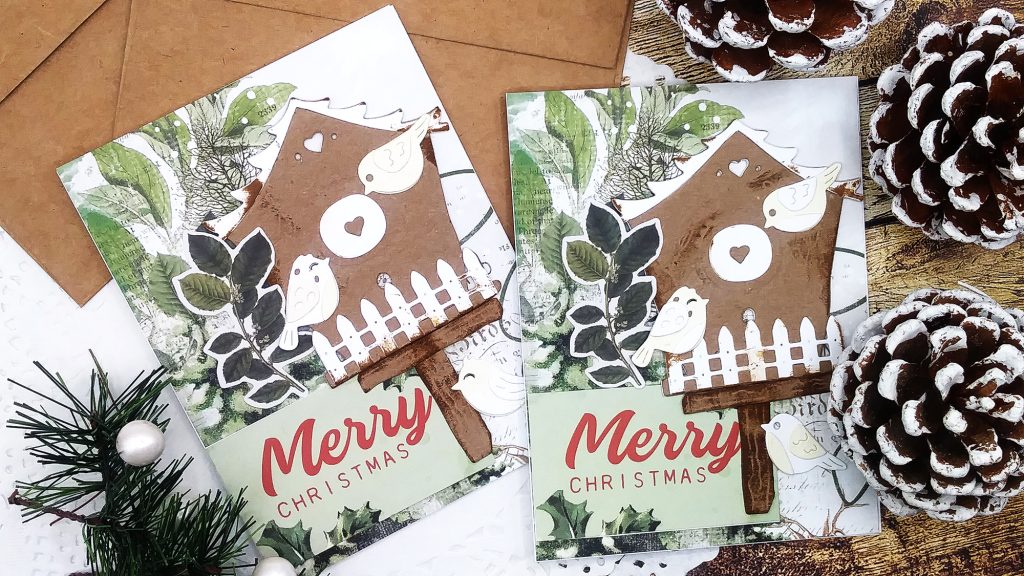 I used white and pale yellow cardstock to die cut the birds and their wings. This collection is so cool as all the sets comes with different dies to really customize your birdhouse and you can mix and match these dies to use on any birdhouse you build. For example, you can change the roofs which I did. I used Lawn Fawn's Craft cardstock for the house and the stand and white cardstock for the roof and the center hearts.
I just adore how Vicky designed these birdhouses, they are too cute!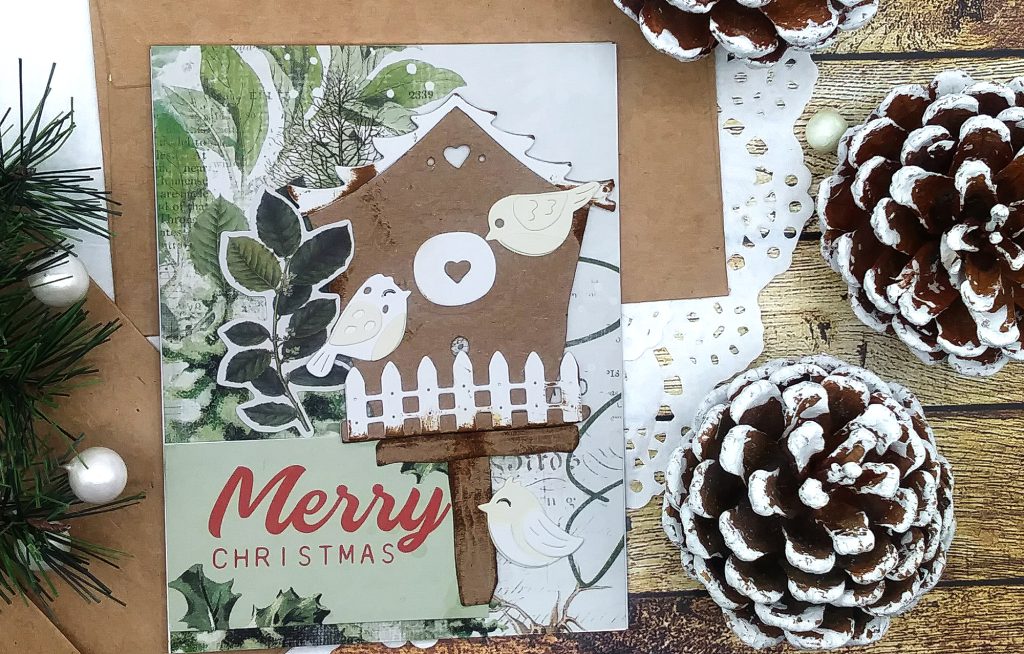 I think I went a little crazy with the distress inking! LOL!!!
CONFESSION: I thought about not posting this card but decided against it because handmade doesn't mean perfect. What matters is that I enjoyed the process and I made this card with a lot of love! Don't be afraid to share your creations even if you don't think they're that good. What you see and what other see are totally different!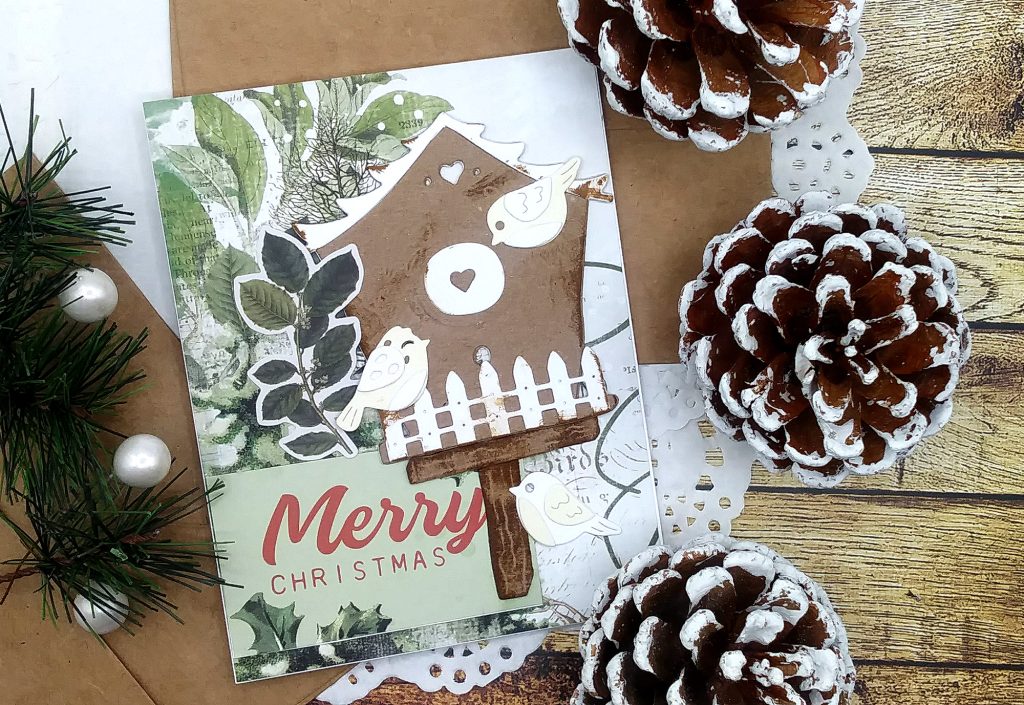 For the background, I trimmed down some pattern papers from the Simple Stories pack to A2 size. The paper is rather thin so I trimmed another white cardstock paper also to A2 and glued that to the back to strengthen it before adding to my card bases.
I then, added the Merry Christmas sentiment after trimming it down (also from the SS pack). I then placed my birdhouses over that and nestled in those leaves on the left side from the paper pack. Finally, added all my little birdies and these two cards were done.
---
For my next 2 cards, I used the Winter birdhouse die and went with red and a lighter green color except for that lime envelope, LOL! I need to place an order for more pastel colored envelopes!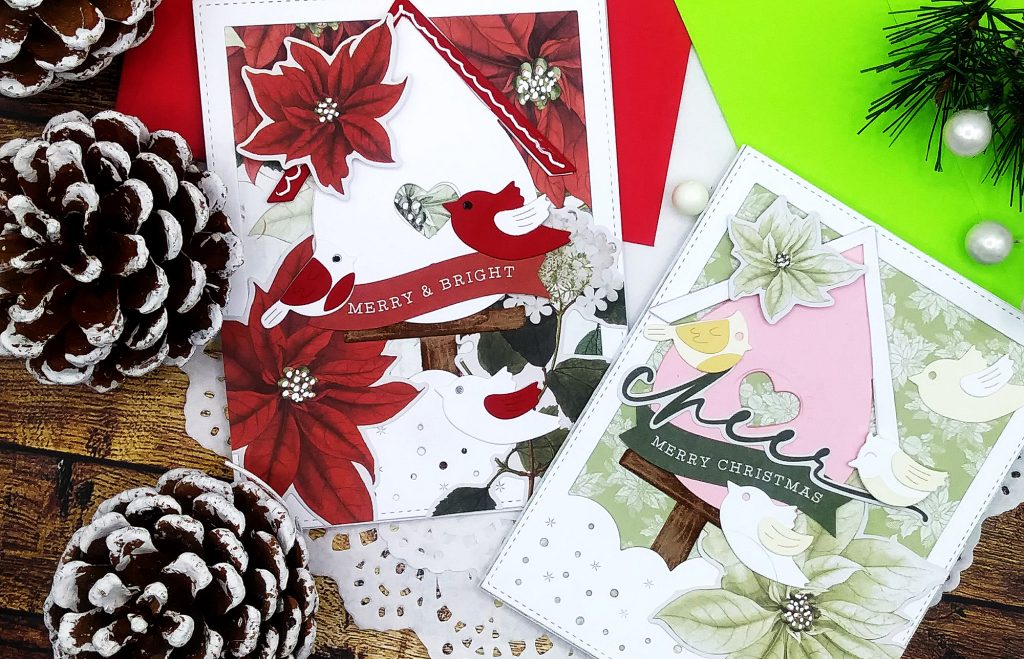 I know the pink birdhouse isn't exactly traditional Christmas but I still love it for something different!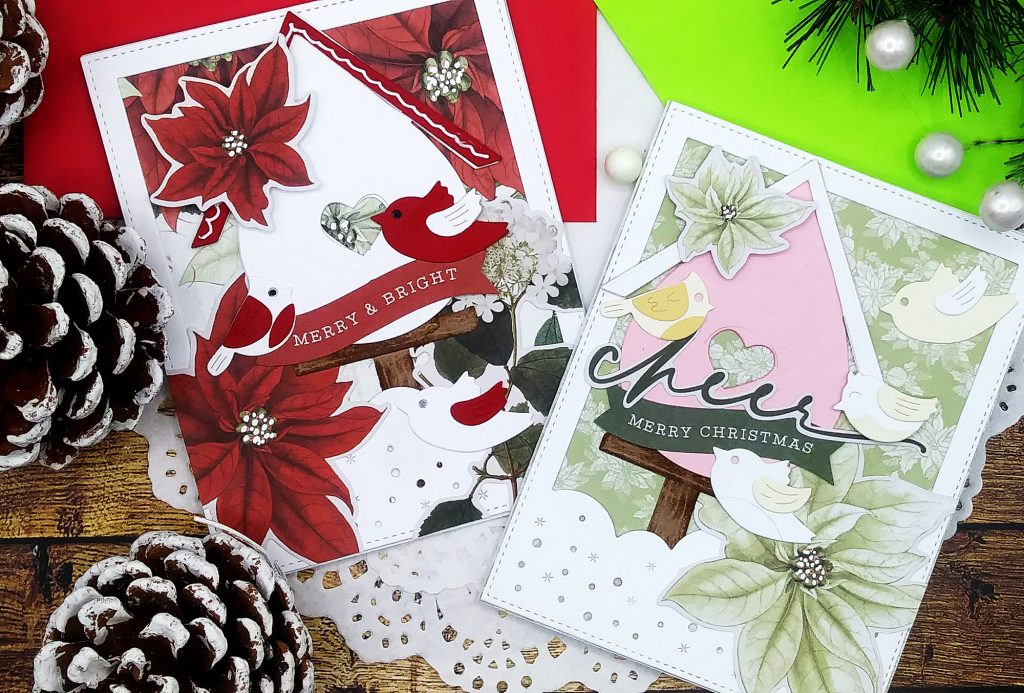 The pattern papers are the pointsettias from the paper pack that I trimmed to A2 size and adhered to my card bases.
I decided to use Mama Elephant's Large Snowflake frame die from their "Everything Nice" release for my card panel and tucked the birdhouse stand behind the frame. And, yeppers I distressed those stands really good!
For embellishments, I used some poinsettia pre-cut images from the paper pack along with the sentiments. The birds I die cut with Simon Says Stamp "schoolhouse red" cardstock and used white and pale yellow again. Added more detail to the center of those flowers with my Gelly roll pen.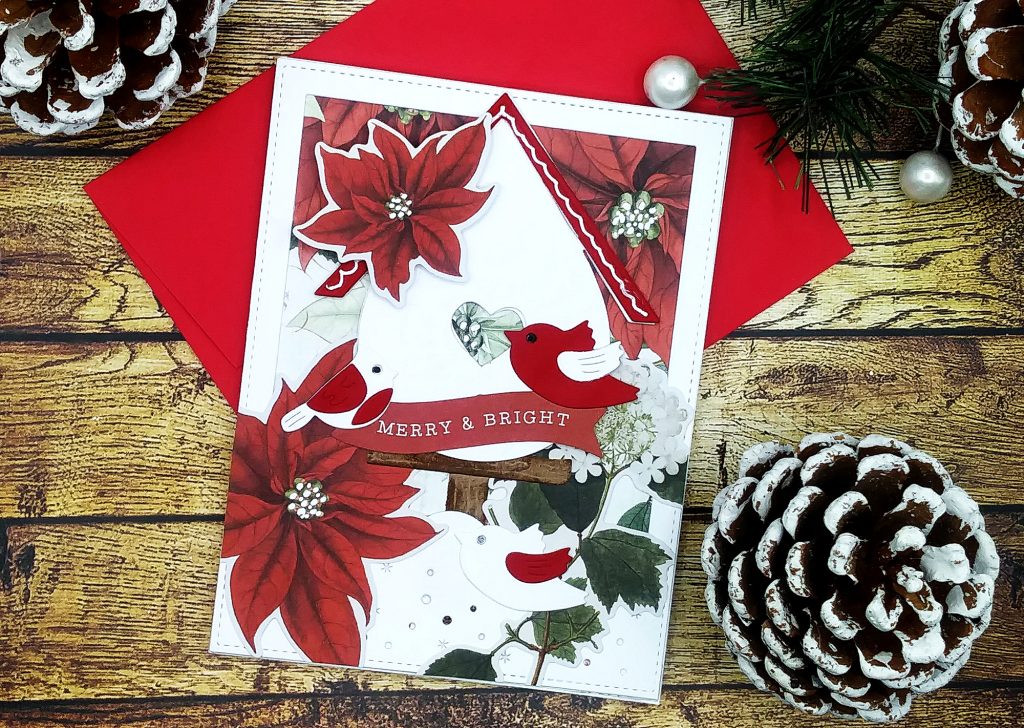 I added detail to the top of the red roof on the birdhouse with my gel pen. I simply traced the pattern from the die to make it stand out more.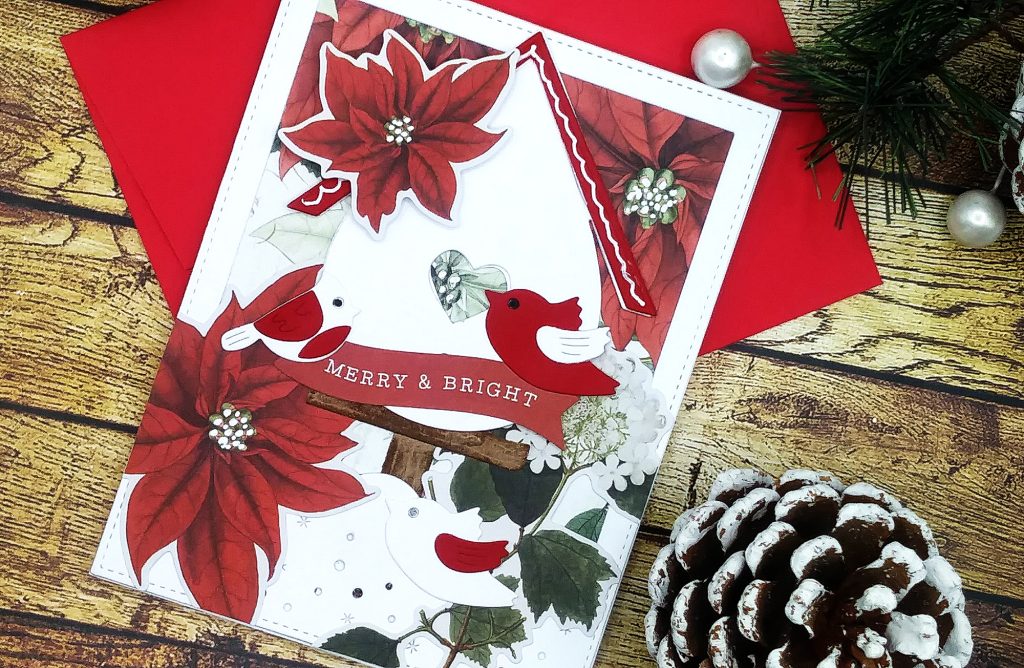 You can see a little bit of that pattern paper peeking through the center heart on these cards. This red one is definitely my favorite card from this collection!