I know it's been a minute since my last post. I've really been focused more on Kimsearrings.com, however cardmaking is still in my blood. I continue to watch YT videos and keep up with new releases from my favorite craft companies. Though I'm not buying, I challenge myself to shop my own stash.
So, I like watching Nichol Sphor's monthly series, "Making the Cut" for Simon Says Stamp. Her last video, "Spring Birdhouse Scene Card" inspired me so much! I LOVE birds, birdhouses and we watch them literally when hubby and I go out. We have so many types of birds that visit us on the Pacific coast and they are so fun to follow around! I probably should buy up all the birdhouse dies I can find! LOL 😀
Like I said, I'm not buying any cardmaking anything right now, but I knew I had some of the elements she used in her video so I shopped my stash! My birdhouse comes from Honey Bee Stamps and it's actually a 2-story die set but I used only 1 for my cards. Check out this post to see how I used the full 2-story die!
The leaves are from My Favorite Things, the flowers from Spellbinders, my birds are from Simon Says Stamp, the pattern paper I used to die cut my birdhouses are "Dress my Craft" Magnolias 12 x 12 and the background is a 3D embossing folder, "Aloha" Tropical Collection from Sara Davies. Unfortunately, I can't find this embossing folder so I'm not sure it's available at the time of this post.
I did a LOT of ink blending, because I wanted to distress all the elements of my cards. My favorite ink for distressing is Distress Traditional "Vintage Photo". I die cut all my other pieces except the birdhouse and the birds' wings with white cardstock. I die cut the birds wings and top of their heads with yellow cardstock then ink blended those parts with Vintage photo, but their bodies with "Old Paper" Distress ink. I tried to keep the bodies light in the center, I didn't want bright white and I like the result I got when using Old Paper.
I added a little extra touch to the birds' beaks. I colored them orange with my Pentel fine point marker.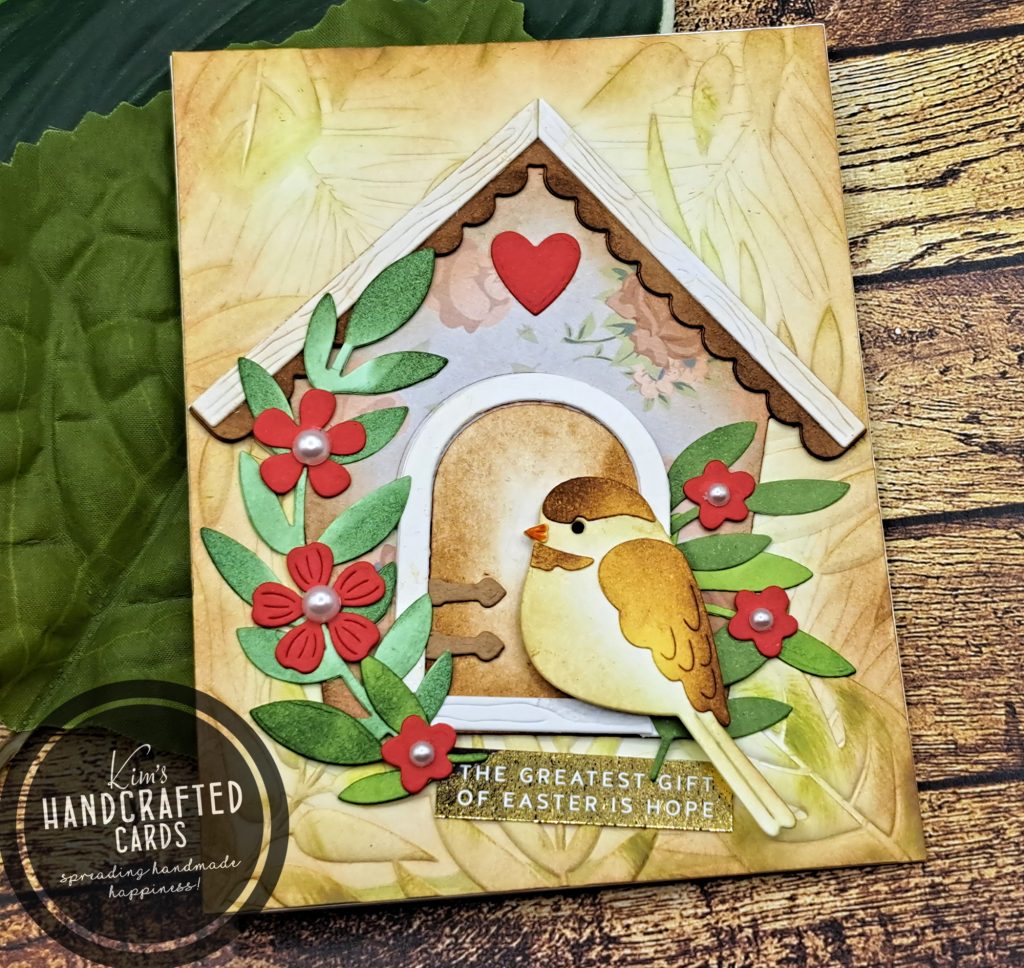 There's also a little bit of green ink blending too on the card panel but honestly I don't remember what color I used. So sorry, I'm getting old LOL!
I also wanted some dimension on the roof of the birdhouse so I die cut that piece twice as well as the door. Added the red heart in the center on the houses, they add such a cute decoration. I LOVE how the leaves have that rustic look and that's what I was going for. It's awesome to create in your head an idea and then pull it off perfectly!
After doing all my die cutting and ink blending, it was time to piece everything together so first the birdhouses and while that was drying, I worked on the leaves and flowers. I die cut the leaves with green cardstock (different shades) and ink blended them with Rustic Wilderness Distress Traditional ink. For the flowers, I die cut them on red cardstock but didn't do any ink blending on them. I just added some white pearl enamel dots from my stash to the centers.
I adhered the card panels to my cardbases and added the birdhouses on an angle to give the cards a bit for interest and something whimsical. I worked on my birds next and placed the leaves/flowers around my birdhouses, then added the birds. Last but not least was the sentiments. I wanted a rustic feel, yes, but I also wanted the cards to be bright and have a Spring feel. I looked through my sentiment strips from Simon and found in my stash a few that I had foiled on my Mini Minc machine, they were left over from an Easter card project a year or so ago. Perfect!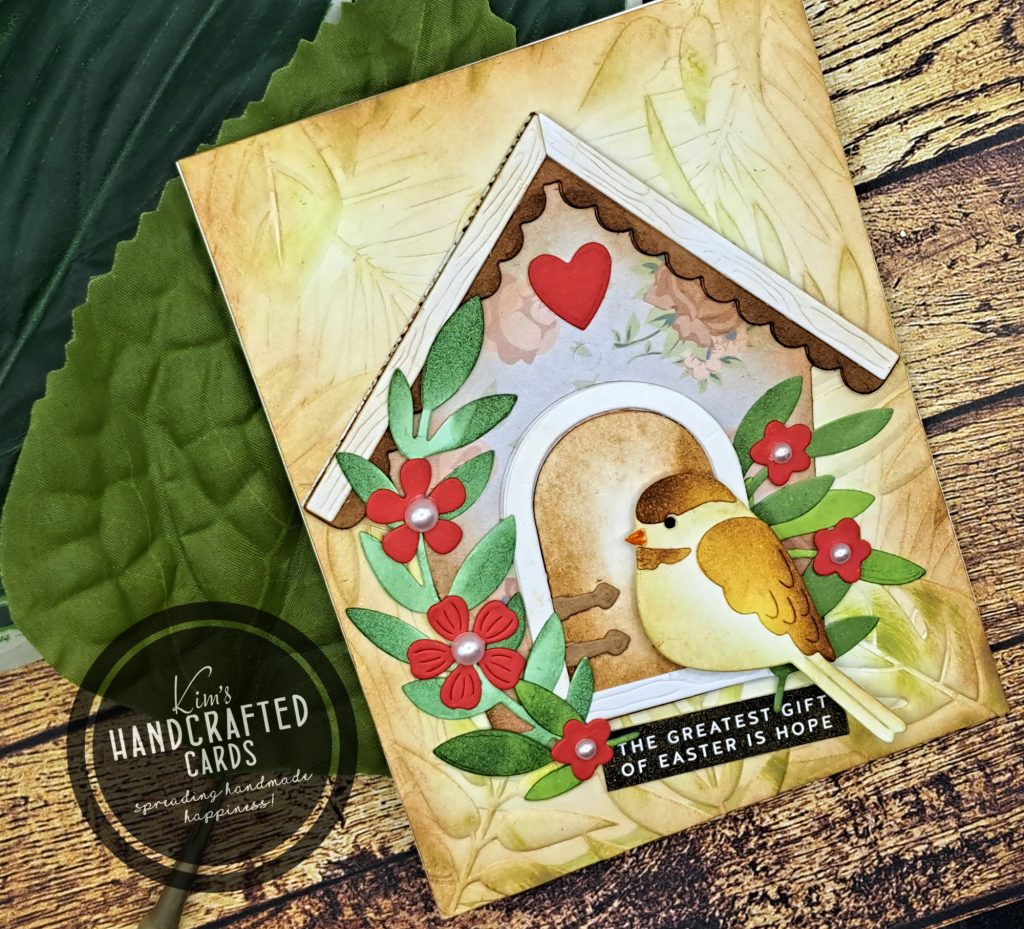 I adore these sentiments, so inspiring and encouraging. We all need hope in the world. Easter is that time of the year that I celebrate the coming of my Savior, Jesus Christ and the hope He brought and still brings.
I typically donate 90% of my cards but every now and again I make a card that I want to keep for myself and I think these are those type of cards 🙂