Ever since I made my last floating shadow box card, I've been on this 3D paper crafting kick! Not too long ago, I purchased Honey Bee Stamps A2 Birdhouse Card Base die set and made these cards! But this time, I wanted to do something different with the die set rather than add them to a card.
I was looking for some inspiration on YT searching for ideas of how other cardmakers used the die set and that's when I came across Joy's video tutorial for Honey Bee Stamps where she made a shaped card with the birdhouse die. I loved how it looked and knew that's what I wanted to make.
The die set comes with all kinds of dies to really customize the birdhouse. I also wanted to combine my houses with birds and I felt like the Layered Birdie and Chick-a-dee from Simon Says Stamp would be perfect!
Now, I made 5 birdhouse shaped cards that took me several days to finish! Especially fighting flu, I had to pace myself and work in sections which I'll detail later.
I followed the steps Joy shared in her video so I highly recommend watching it if you want to make this card too.
To make all this simpler, I stuck with 3 color palettes: pinks, greens and blues. It was pretty easy to match all my pieces with these colors using the following products:
Pattern Papers→ Paper Rose Butterfly Bliss 6 x 6 paper pack & My Favorite Things (MFT) "Sweet Plaid" 6 x 6 paper pack
Simon Says Stamp Pawsitively Saturated inks→ Guava and Watermelon, Surf and Seafoam, Limelicious and Pearfection + Citrine. These I used to color my birds. Also, I used Pinkfresh Studio's "Licorice" for the birds' legs.
Plain cardstock→ Cardstock Warehouse "Pretty in Pastels"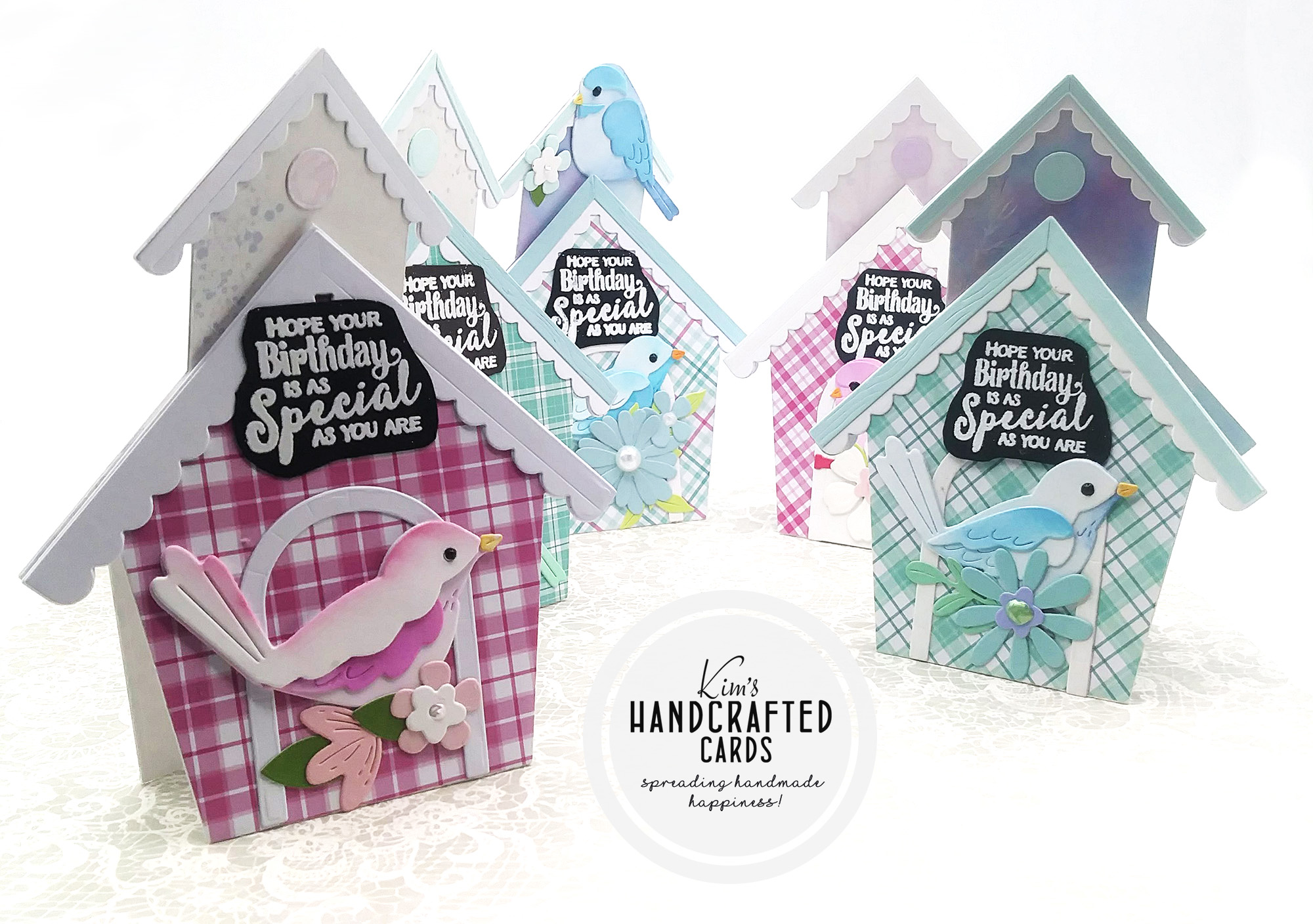 Working this project in sections made making all these cute cards doable and a LOT of fun. Below is the outline I followed:
Making the birds. I die cut both bird dies with white heavyweight cardstock. Using my small blending brushes I colored each bird. For the eyes, I used Nuvo Ebony Crystal Drops. I set my birds aside to dry.
Making the Flowers. I wanted to surround my birds with some flowers so I went through my stash as I tend to die cut lots of mini sprigs and flowers and keep them for future cards. So, I grabbed a few of these.
Picking out Pattern Papers. I picked out some blues, greens and pinks papers from both the MFT plaid and Paper Rose Butterfly Bliss papers. After I figured out the colors for my birdhouses, I die cut the pattern papers. With the birdhouse builder die set, you can make a 2-story house or 1. I used the Paper Rose papers for the upper level and MFT for the lower level.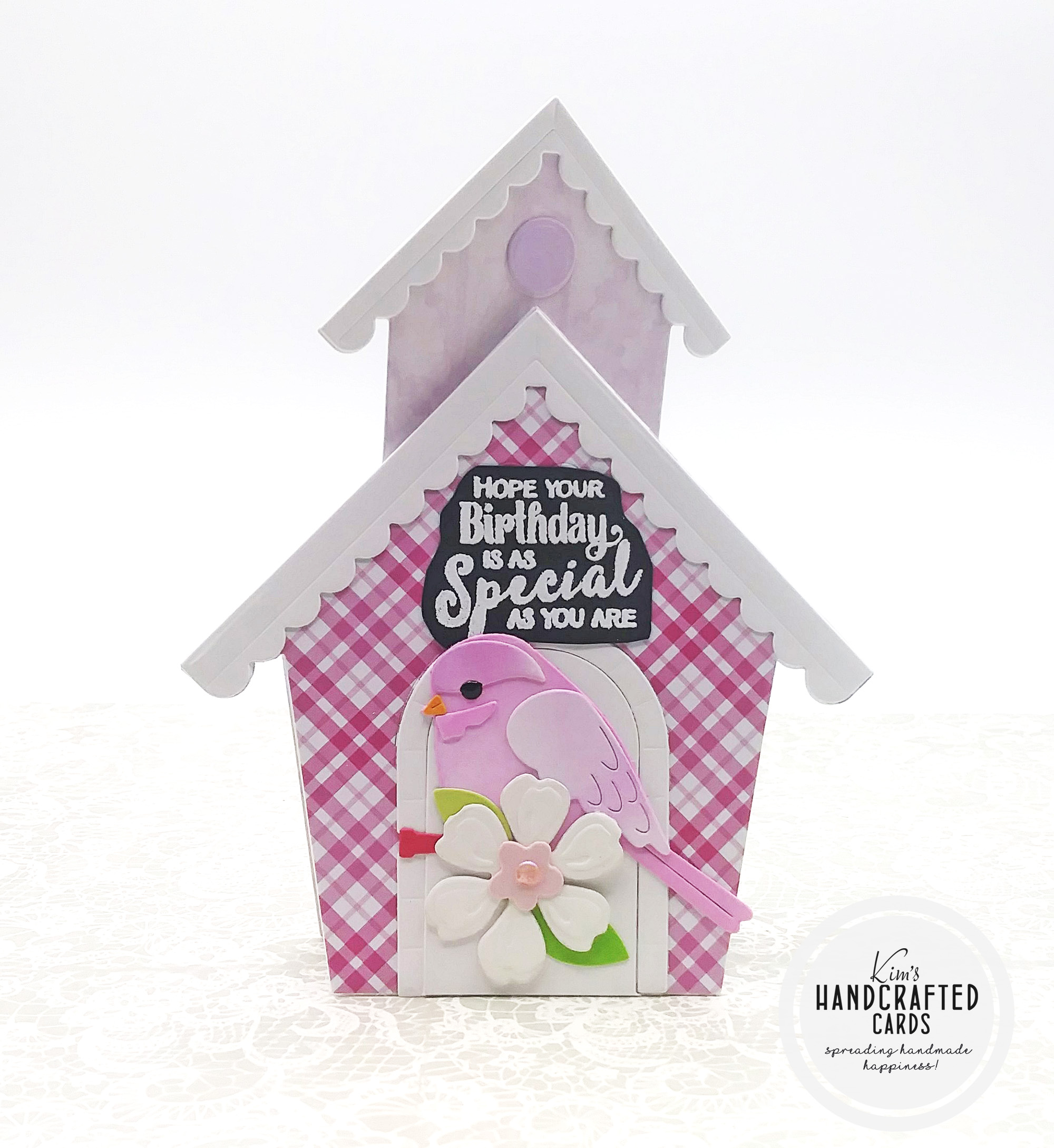 Die cutting the birdhouses. I also die cut the birdhouses several times with white cardstock. I did this to give the cards more strength because the front of the cards would be top-heavy with birds and flowers.
Make the birdhouse card bases. To have the cards open, I needed to make a hinge. I followed Joy's example from her video. In a nutshell, I trimmed a piece of white cardstock just short of the left side of the lower level house and scored that piece down the center (I eyeballed the measurements). Then, I folded it and with double-sided tape, I attached the lower level house to top level house. I used my bone folder to really crease the hinge to ensure it was sticking well.

I also die cut the roofs with white and blue cardstock. The circle dot on the birdhouse either was die cut with blue or pink cardstock. I also die cut the hinges for some of the cards too.
Create the sentiment. I white heat embossed the birthday greeting on black cardstock and fussy cut around it. This comes from the "Blessing Words, Heart" stamp set I bought on AZ.
Embellish the cards. Now, time to decorate. I placed all my elements on each card and I was happy with the overall look, I glued everything down.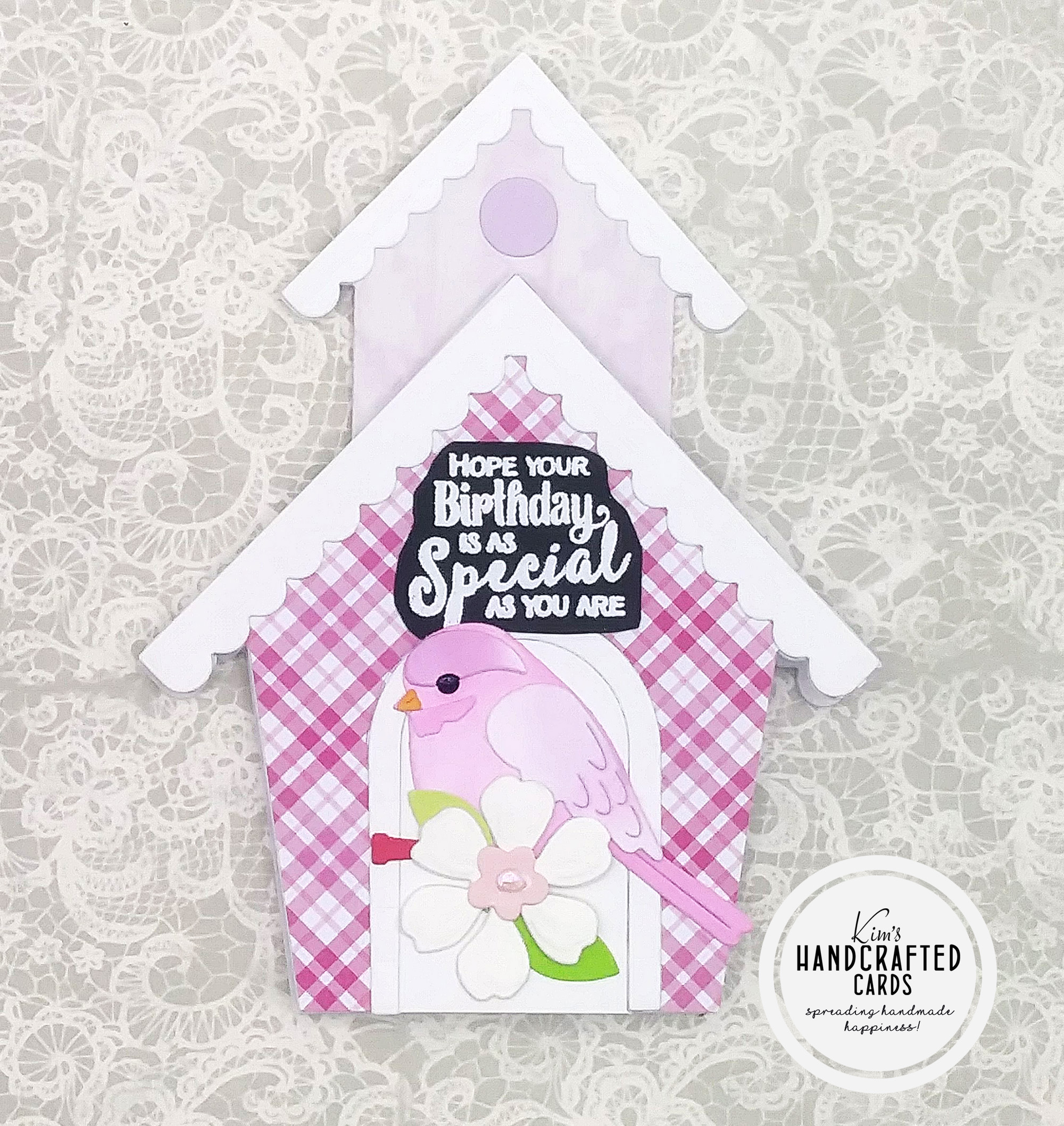 I used a White pearl, Ranger Liquid pearls or Nuvo dream drops to embellish the centers of my flowers. The flowers are a mixture of Spellbinders Mini Blooms/Sprigs and OOTSR flower die set that I bought on AZ.
I am over the moon with how these birdhouse cards turned out. They were so worth making! I think it's good to every now and again push myself to go outside of traditional cardmaking and make something new.