Sometimes, we as cardmakers design a card that we're not totally happy with and that's how I feel about my 2 cards that I'm sharing today. There's absolutely NOTHING wrong with the supplies, I just feel that I didn't pick the right color choices.
Still, instead of chalking up these cards, I decided to share them anyway and I do plan to re-make them again. When I was deciding whether or not to write this, I kept remembering a post I wrote several months back, "For Creatives: Overcoming the Fear of Sharing". I'm a perfectionist and it's one area that I really need to work harder at. I'm constantly comparing myself to other cardmakers, most who have been at this for many, many years. And, that's not a good thing to do.
It really shouldn't matter if I've been cardmaking a month or 12 years, we all have something to give to the world through our crafting and that's to bring happiness to others. My own slogan is "Spreading Handmade Happiness" and that's what I enjoy doing so if my cards have imperfections like: (a) I didn't pick the best color cardstock or; (b) I didn't center a sentiment exactly perfect, does it matter? The point is: did I enjoy making that card?, did it bring joy to the person I gave it to?
Anyway, I guess that's enough preaching right?! Point is, I have to follow my own advice from that post and so I'm sharing these 2 cards!
I renewed my subscription for Spellbinders SDOM (Small Die of the Month) kit when I saw this release for December. I love die cutting the most and I love flowers and frames. This die set was definitely for me. They always pack a punch into all their kits and for this one, you get the frame and a bunch of flowers with outlines and leaves. Check out the video unboxing on YT here.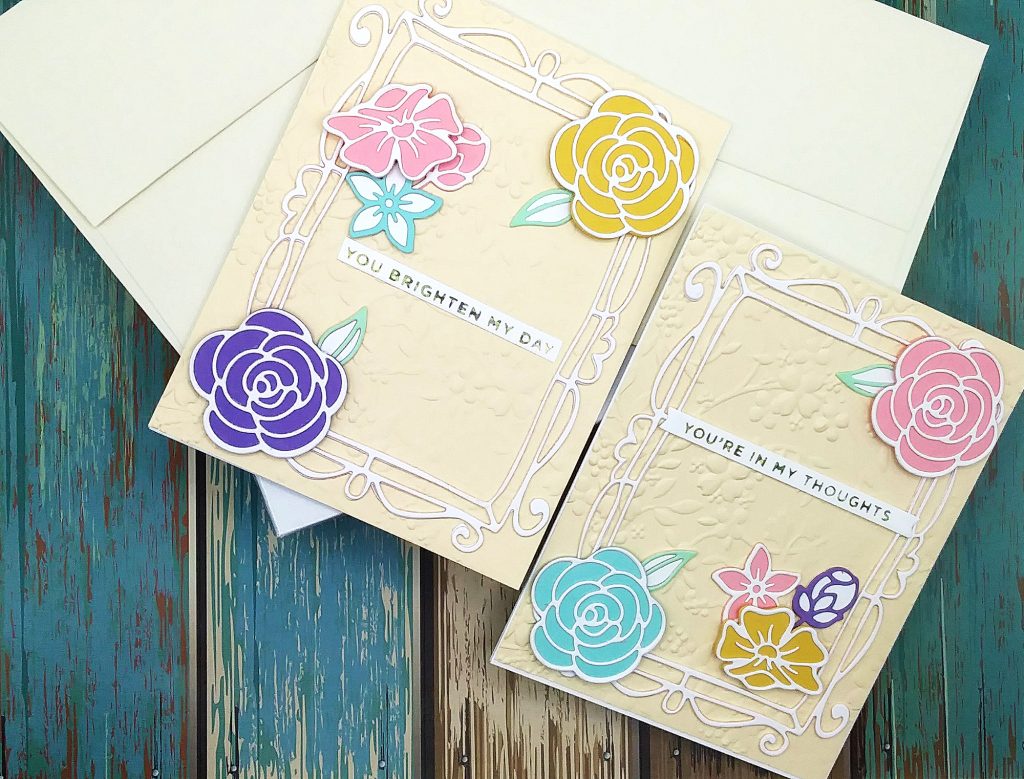 For these 2 cards, I die cut all the flowers from various color cardstock as well as white in my stash, the frame was die cut twice on white heavyweight cardstock to add some dimension. You can also do paper piecing with the frame if you like that technique. Just die cut it with 2 different cardstock papers and insert the inside pieces to get a really neat look.
I also decided to use a 3D embossing folder from Simon Says Stamp for my background. The pale yellow cardstock I embossed on is from a pack in my crafty stash and I think that is one of things that bothers me. I'm not a big yellow fan to begin with and I think if I had die cut the frame in a different color and used white for my panel, I would have liked that look more.
Anyway, you can see the gorgeous detail of that 3D embossing folder! It's beautiful!
BTW, I prefer to use my Spellbinders Platinum die cutting machine to do 3D embossing. My sandwich is first, the platform then one sheet of cardstock as a shim and then my paper inside the embossing folder and I get great results!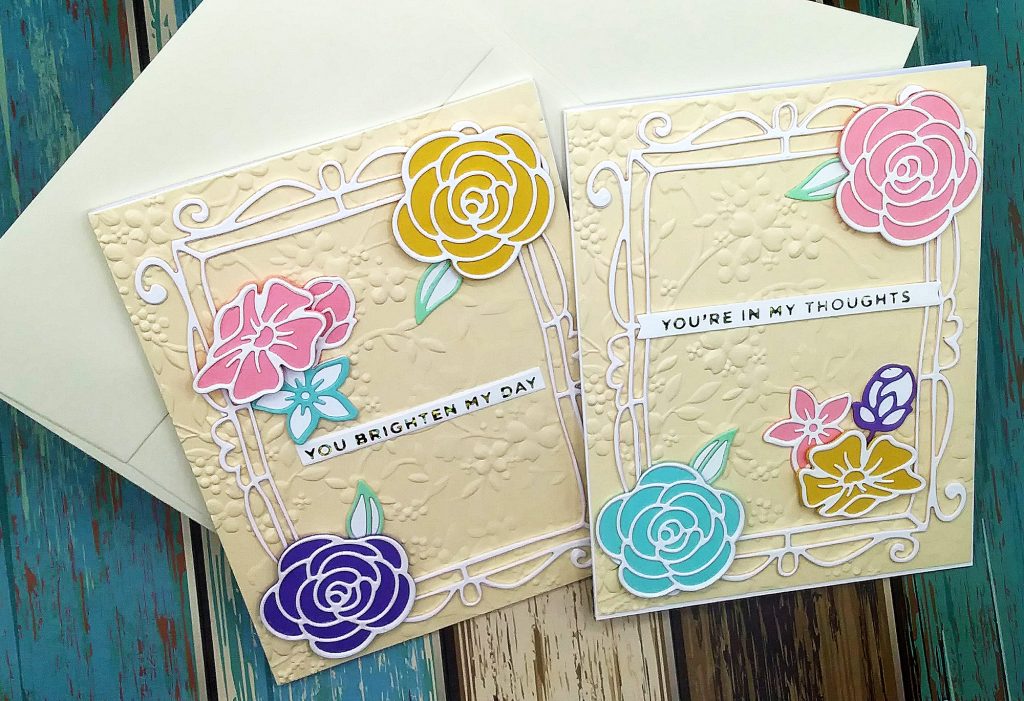 I recently purchased the Spellbinders Glimmer Hot Foil Plate Sentiments and used some gold foil from the Variety pack (comes with 4 rolls) which has a little extra detail in it with my hot foil glimmer system. The set comes with the dies so after foiling, I used them to cut my sentiments.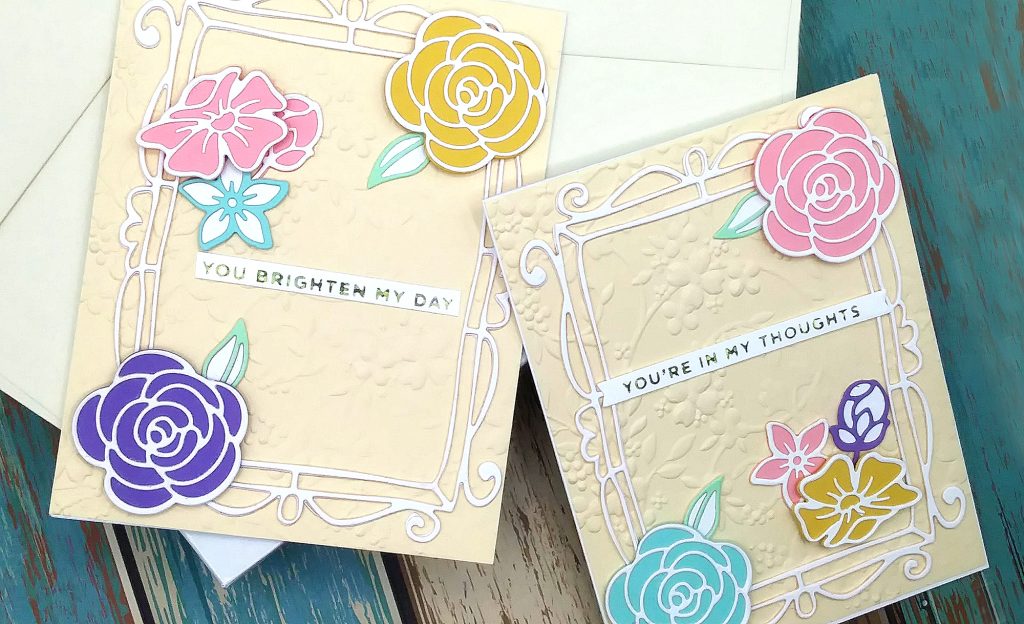 These cards came together easily. I didn't have to ponder too much over what kind of design I wanted to make. When I remake these, they'll look a lot differently and I look forward to that challenge!
---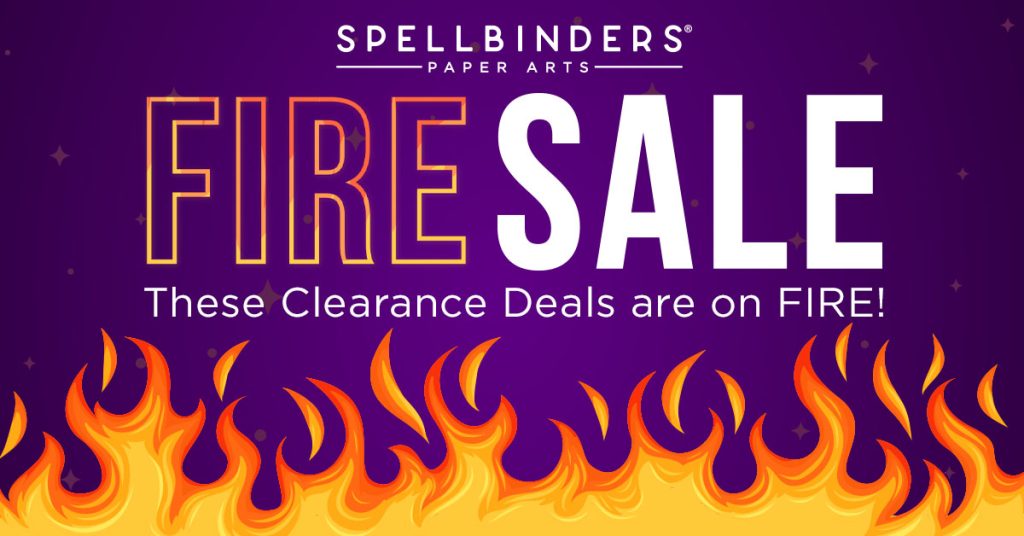 Also, at the time of this post, Spellbinders is having their "Fire Clearance Sale" where products range from $1 up. This is their annual sale and you can even get past kits for a lot less so if you're shopping to add items to your crafty stash, now's the time! Visit my Crafty Item Picks for more info!
---