I'm like a lot of crafters in that I love to dabble in other crafty hobbies besides paper. As you all know, if you've been following me for awhile, that I started out in fiber arts as a crocheter and then knitter. After injuring my wrist and experiencing pain in my shoulders and arms, I had to give up the needle arts and search for something else to do.
That led me to paper crafting, cardmaking particularly. I LOVE making cards and that's my primary craft hobby. However, I like to try new things. I follow some DIY home decor/craft YT gurus for ideas and the inspiration to make baskets from placemats intrigued me so much that I had to try it! I definitely don't take credit for this idea, it comes from Kathryn of "Do it on a Dime".
She posted this recent video of using Dollar Tree rugs/placemats and hot glue or you can use fabric hot glue which I did (no sewing) to make the cutest baskets! I highly recommend watching her video! I went to our local Dollar Tree several times looking for rugs and placemats, but unfortunately they didn't have any. So, my next stop was Amazon and I found the cutest 4-set of woven placemats that have that farmhouse look I love. I bought them instantly!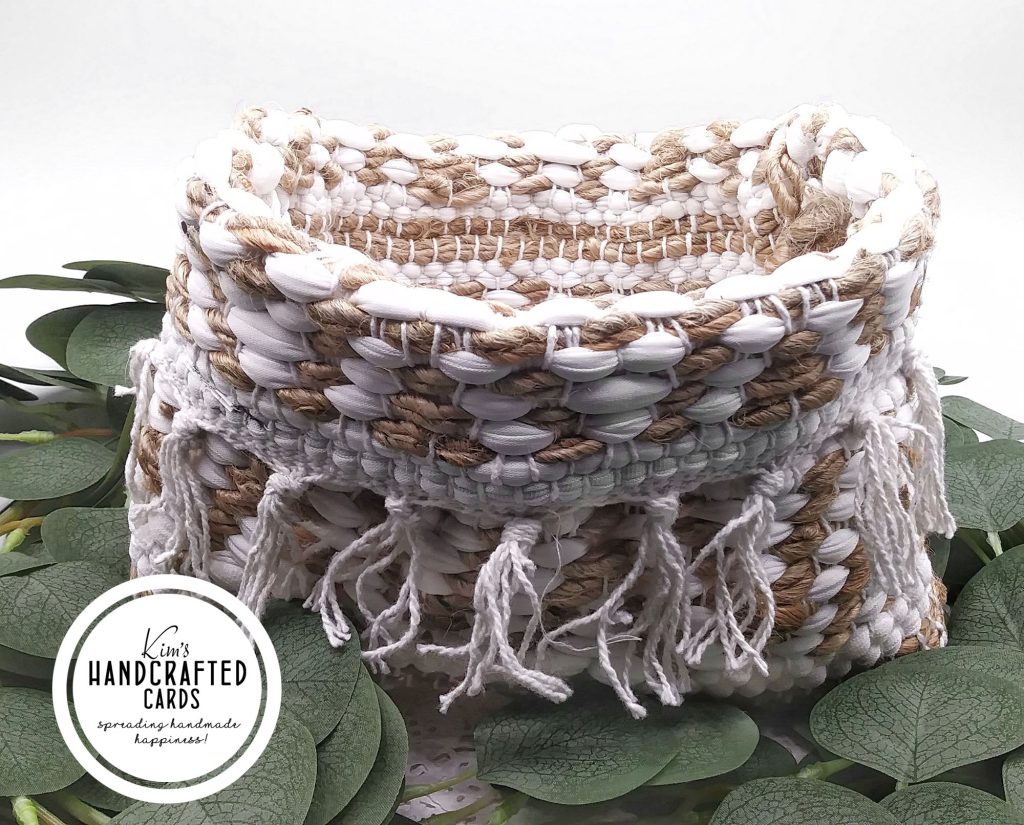 Essentially, to make the basket, you lay out the placemat/rug and use hot glue to apply on both the left and right edges about 3/4″ of the way down and press down for the glue to set. Then, fold in (or pivot) the bottom on both sides of the basket and apply glue and press that. This step makes the basket stand up nicely, now turn the basket inside out and add whatever you want in it. (Watch the video if this step sounds confusing). I'm using my basket in the bathroom to hold my lotion, hair spray and other items. It is sooooo cute and it only took me about 15 minutes to make! LOVE IT 😀
I love these cute tassels/fringe hanging off. These placemats are extremely heavy and so I had to use some muscle after gluing down the sizes and the bottom to turn the basket inside out. However, the basket holds its shape and handles the weight of my bathroom items very well.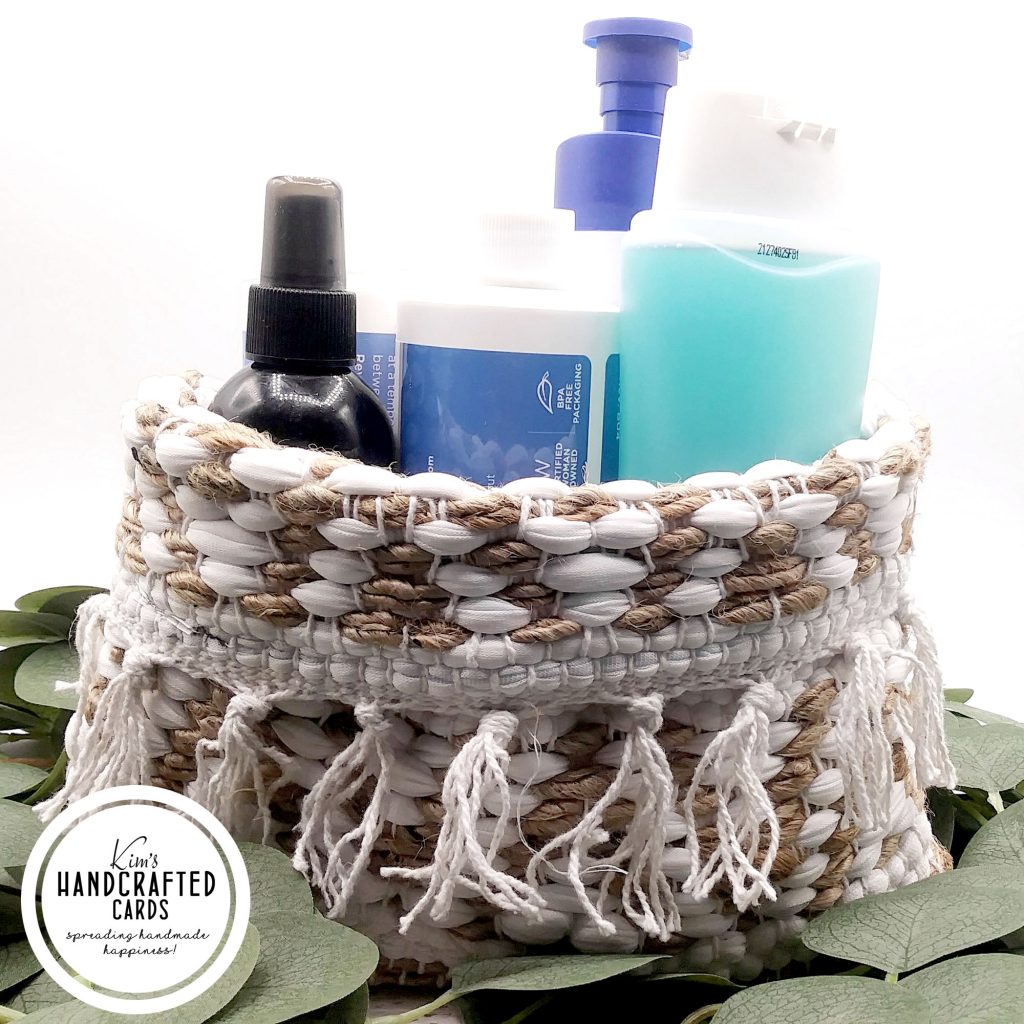 I just love how this turned out and I have 3 more placemats to make 3 additional baskets!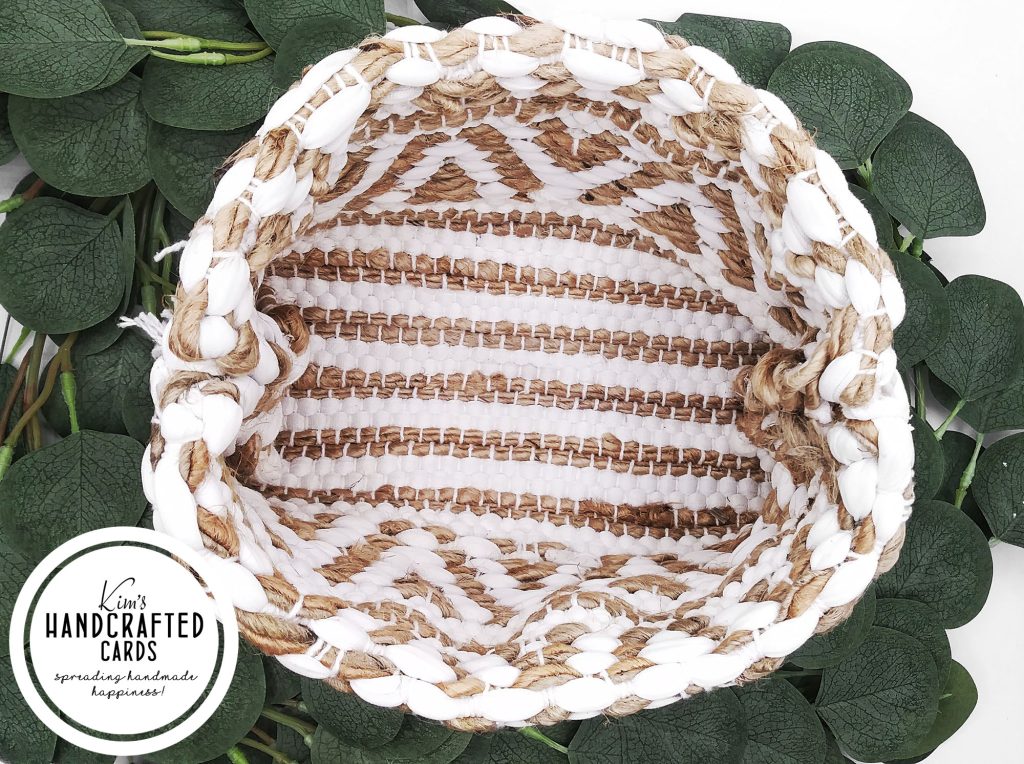 The placemats I purchased are 13″ x 19″ so I'm not sure how big a basket this is, I didn't measure it but it's a nice size to fit quite a few items. If you want a larger basket, then I recommend finding placemats or rugs that are larger than this.
So, what do you think of my basket?! I am in love with it!