I know it's been a minute since I've blogged, apologies for that. My business has taken a shift in focus and right now I'm concentrating more on Kim's Earrings. I still love cardmaking and hope it'll always be a part of my life. So, an update of why the shift in focus took place and then I'll get to the simple card I made.
Cardmaking is such a fun hobby and it can be a business. It's different for everyone and every situation. For about a year, I sold my handmade cards, however so many things happened to our economy as well as my own feelings that led me to shut down my shop and donate all my cards. That made me more fulfilled, however the next shift was with the cardmaking industry itself. Don't get me wrong, I LOVE the new products that the companies introduce every month. I love the ideas other cardmakers show us for inspiration and I absolutely love the support of the crafty community. That said…
I finally realized that I simply can't keep up. There's new dies, new stamps, stencils, tools and even inks and markers! It's great to have all these choices, but in my situation, I buy 100% of all my products and I'm on a fixed budget. In fact, I skipped Simon Says Stamp's Stamptember and I'm skipping Diecember releases. It hurt, cause I always look forward these two events but it had to be done.
I know that there are perks, like being on design teams because in exchange for free products, the maker is helping companies by influencing their followers. This is terrific for small businesses that otherwise would have a hard time reaching that many consumers. YouTube and blogging is a fantastic way to reach advanced crafters and beginners. However, I don't want to be on a design team, it just doesn't fit my situation.
Paper crafting, cardmaking, scrapbooking or any type of craft for that matter, brings so much joy to many people. A lot of us suffer from anxiety, stress and even depression. To create with your hands is therapeutic for many of us. So for three years, I worked really hard to buy the products that spoke to me and how I craft. However, my husband and I have a dream that requires a lot of sacrifice financially, I can't say more right now but hope to elaborate later on. This is why I decided to focus on making an income with my crafty journey. The great part is a lot of my cardmaking supplies translated over to making faux leather earrings. I've already paid back the initial investment. So, you may not see regular posting on this blog.
I made two cards last night so there's another post after this one. I hope you understand my reasons for putting cardmaking on the backburner. This blog will always be open if you want to go back and read earlier posts. And, you can definitely still shop here for supplies I've used. Your support will earn me a small commission without any additional cost to you. And, I'm so grateful for your support and following my journey. You can read my affiliate statement here.
That's it for the update so onto the first card. The bird was already created months ago and was sitting in my drawer waiting to get used. I just had to die cut the birdhouse! It comes from Honey Bee Stamps. I used Distress Oxide inks: Vintage photo, Black Soot, Walnut Stain and Frayed Burlap. I added a little water and with my brayer colored my birdhouse until I was satisfied with the outcome. I was going for a weathered look.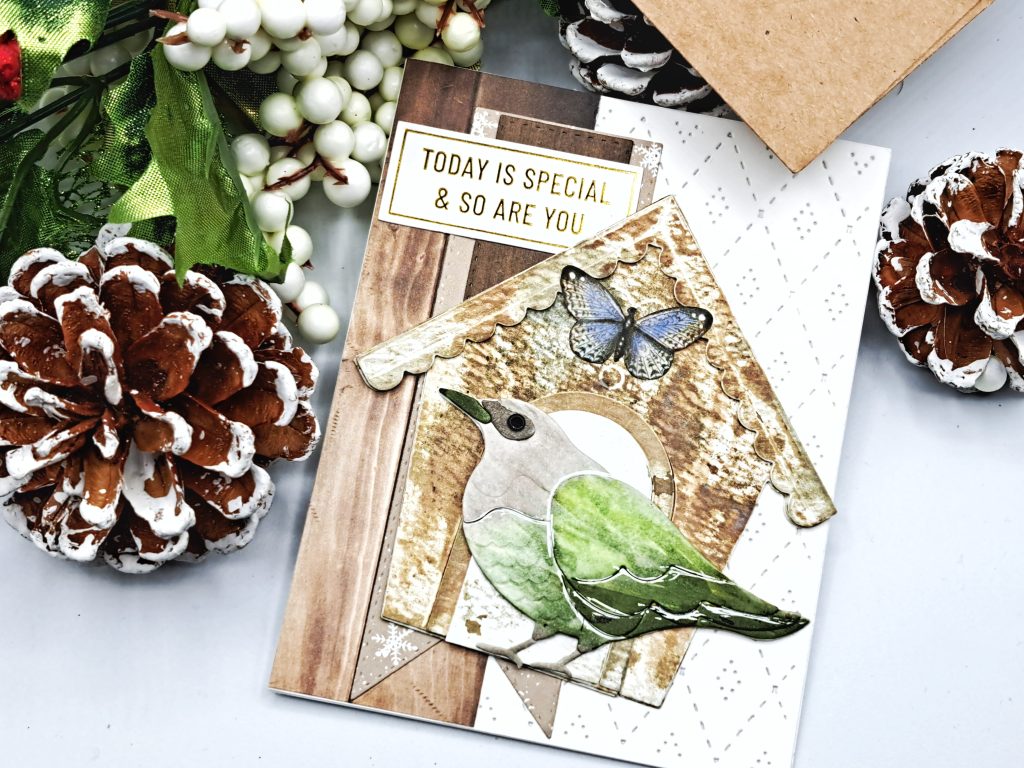 I die cut the birdhouse and roof twice for dimension and let everything air dry.
Meanwhile, I worked on the background for the card base. I used a banner die along with Honey Bee Stamps' pattern paper. The white card panel is a cover die from Pink Fresh Studio. The butterfly is a sticker from Penny Black Stamps. The bird is from Sizzix that colored using Copics, I stuck to greens and grays to color him, I still have about five more birds that are waiting to go on cards! I put all the pieces together on my card and finally, added the gold sentiment which is also from Pink Fresh Studio.
I do love shopping my stash to see what components I already have that I hadn't used. It's fun to discover because I sometimes forget the things I've colored or die cut and put away for later. And, that was it for this card!