If you follow me or have seen any of my social media posts, then you know how much I LOVE incorporating paper kits, ephemera, pre-cut die images and dressing them up in my cardmaking. When I see some of my favorite cardmakers make YT videos just using already made items to make cute cards, it makes my heart happy!
I'll always LOVE ink blending, alcohol-ink blending, watercoloring, Copics coloring, stenciling/stamping and die cutting, etc., so don't get me wrong. I LOVE all that! That said, I also love using pattern papers and ephemera with some simple embellishments. They help me out as I work a full time job and my time is crazy, but I still want to create.
I am really impressed with Dollar Tree's crafty section! They have stepped up their game and so whenever I'm there, I ALWAYS stop by their craft section to look for stickers, ribbons and other goodies. I purchased some cupcake stickers and paired them with some imagery from Scrapbook & Cards Winter 2021 magazine for my Valentine's Day cards today. I love how to stretch my supplies for other occasions.
The embellishments are from a variety of products. I was thinking these cards might be a little too busy but the more I stared at them, the more I love them, they're so bright and cheery and perfect for Love day! LOL!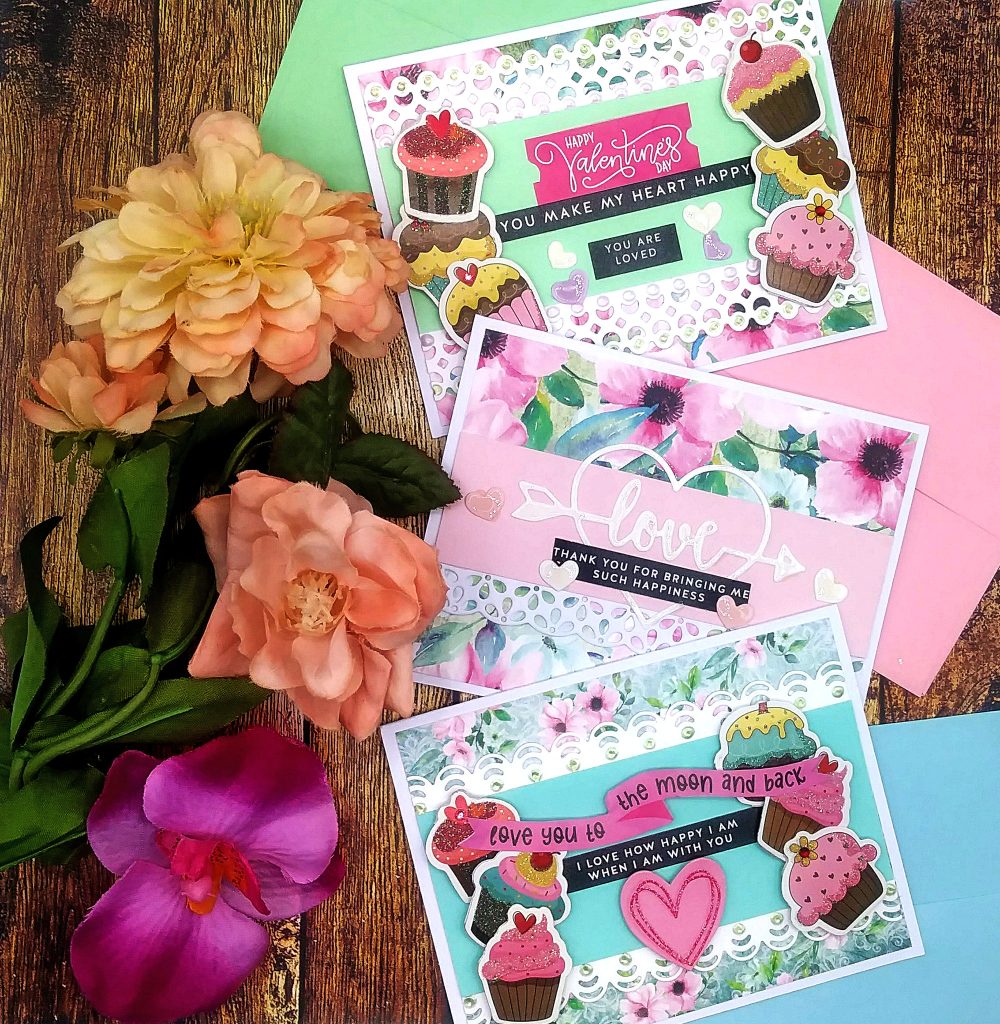 Short List of Products Used (I'll link to what I can at the bottom of this post)
Dress my Craft Magnolias 12 x 12 Paper Pad
Pinkfresh Studio "Lacey Edges" die set
Dollar Tree Cupcakes 3D sticker sheet
Scrapbook & Cards Winter 2021 Magazine
Nuvo Dream Drops
Dress my Craft "Be My Valentine" 2-die set (Love Arrow)
Simon Says Stamp Reverse "Happy" sentiment strips
Simon Says Stamp "Hearts Party" Die set
Nuvo Crystal Glaze
Cardstock Warehouse "Pretty in Pastels" cardstock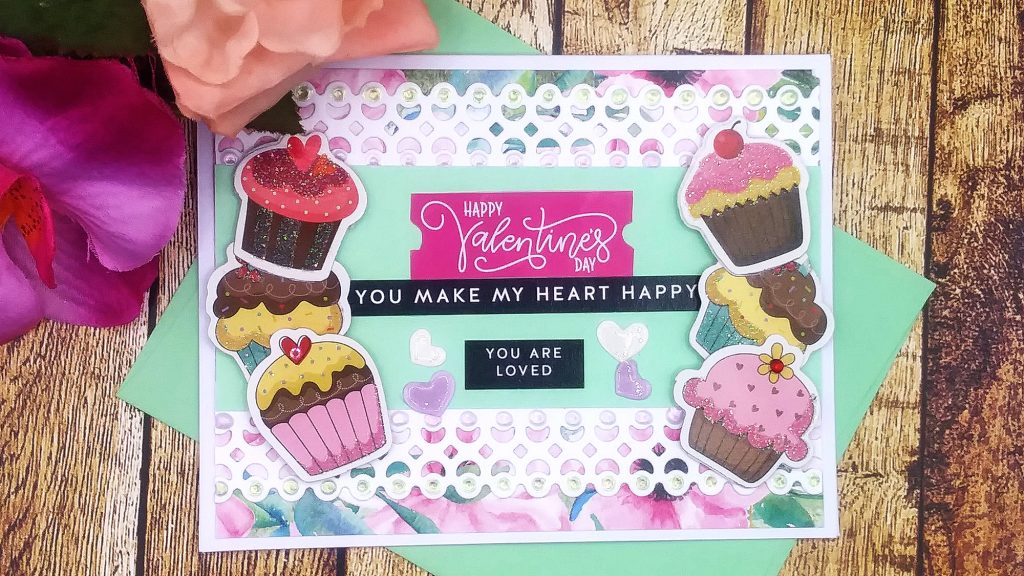 I first off trimmed down my 12 x 12 papers to be 4″ x 5-1/4″ (landscape) and adhered them to my card bases. I set those aside and die cut a bunch of the lacey edges on white cardstock. Also trimmed my pastel cardstock so that I could use them for my sentiments + the backgrounds are very busy so a solid color will help break that up a bit.
For the card above, I added light green cardstock with the lacey dies on the top and bottom.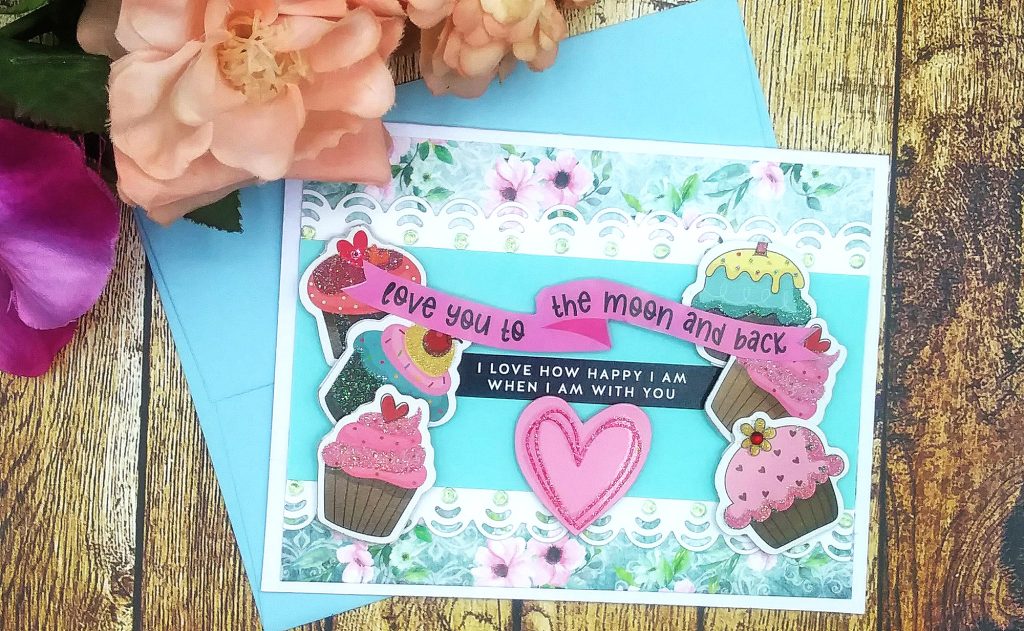 This card above uses some blue cardstock with the lacy edges. I used foam tape under my cupcakes for dimension and positioned them on the left and right sides.
The other embellishments I added were the sentiments in the center and coloring the round openings on the lacey edges with Nuvo Dream Drops (colors used: "Indigo Eclipse", "Fairy Wings" and "Dragon Scales").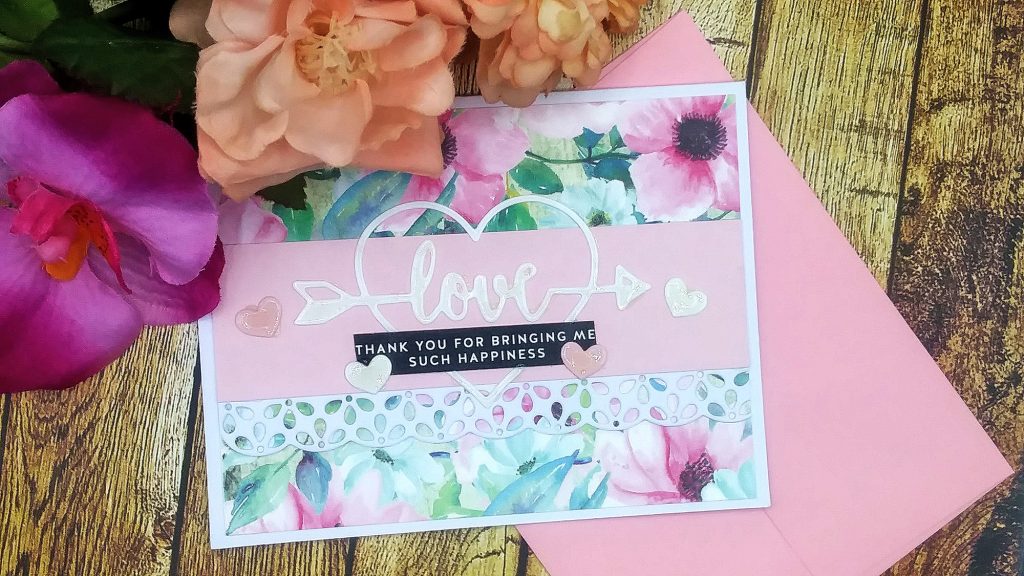 I die cut a bunch of little hearts and added Nuvo Crystal Glaze to all of them for shine. This last card above, I die cut my love arrow (sure wish I knew who manufactured it 🙁 ) on white cardstock and added the Nuvo Glaze to it too. I only added the lacey edging on the bottom. I trimmed that pale pink area a little less than the first 2 cards. This one measures 1″ x 4″ (landscape). The green and blue strips was about 2″ x 4″ (landscape).
I really love how playful these cards turned out, they're so cute in person, I wish I could capture that in the pictures!