Today's post is a short one, I'm so sorry cause normally I take a bunch of pictures but this morning when I shot these photos, only 2 of them came out right 🙁 But, I still wanted to write the post and share on social media 🙂
February's SDOM from Spellbinders features this beautiful oval die, in fact there's 2 sizes with the borders that can be die cut in a bunch of ways. And the best part is, these are stitching dies! I love to stitch on cards, Although I no longer crochet and knit, I'm still a crocheter/knitter by heart so stitching always makes me feel close to yarning.
I enjoyed this pattern so much so that I ordered the bundle of variegated embroidery floss from Spellbinders and can't wait for it to arrive to play with that! I've crocheted/knitted with variegated yarns for years, but I didn't know that it was available for embroidery floss. When the colors changes as you're stitching, it makes the process more enjoyable and not boring.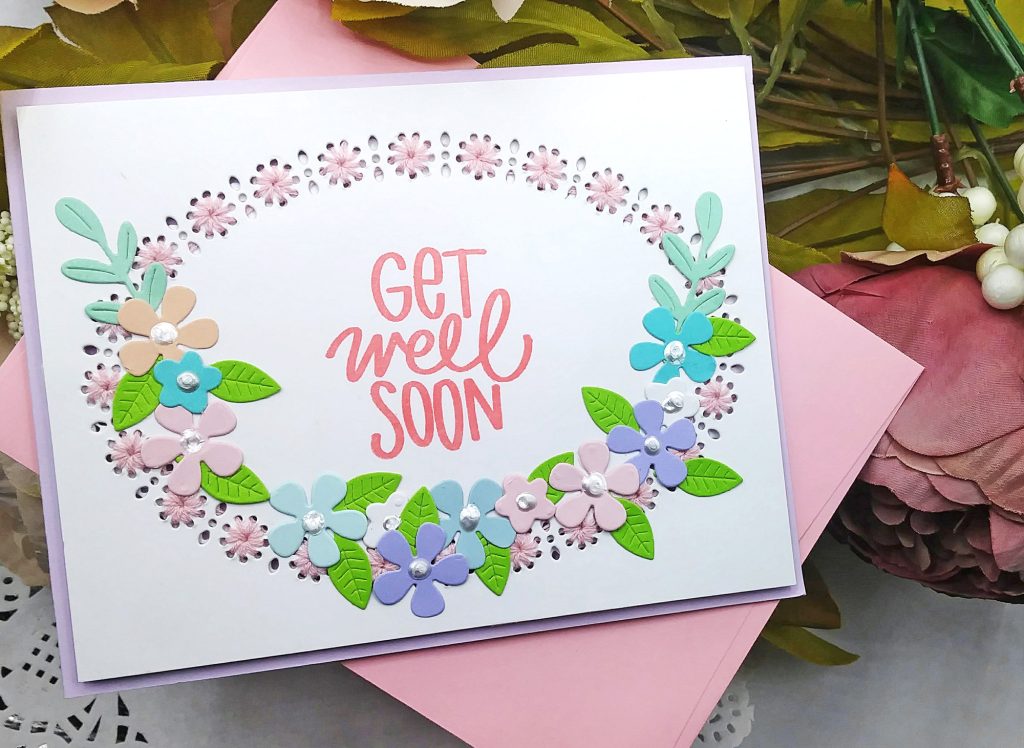 I used 100% cotton embroidery floss that I purchased at Simon Says Stamp. Each color comes in 6-strands, but I pulled it apart and stitched with 2 strands for my card. I also using a blunt tip needle but you can use whatever you have in your stash. I've linked to the set I used when I sewed buttons on crochet items. There's many sizes in the bundle and I use the smallest size for paper stitching.
After I finished all my stitching, I used some double sided foam tape to add a bit of dimension to the card panel and adhered it to a lilac cardstock for my base from Cardstock Warehouse. I trimmed it to be landscape with a side fold.
I don't have many "Get Well" cards in my stash so I was glad I had this sentiment from Simon Says Stamp's "Garden Greetings" stamp set to add to the center of the card. I went with my go-to color, "Blush" Pawsitively Saturated Ink from their Gradient #1 collection.
After my card base and panel was done, I die cut a bunch of flowers/leaves from Spellbinders' April 2021 LDOM, "Universal Curved Border Set". I used several cardstock colors also from Cardstock Warehouse. For an additional touch, I added Liquid Pearls to the centers of my flowers.
I wanted to surround my sentiment with those flowers, but made sure not to cover up so much of the stitching. Really like how this card turned out and I have another card design idea that I'm working on with this die set!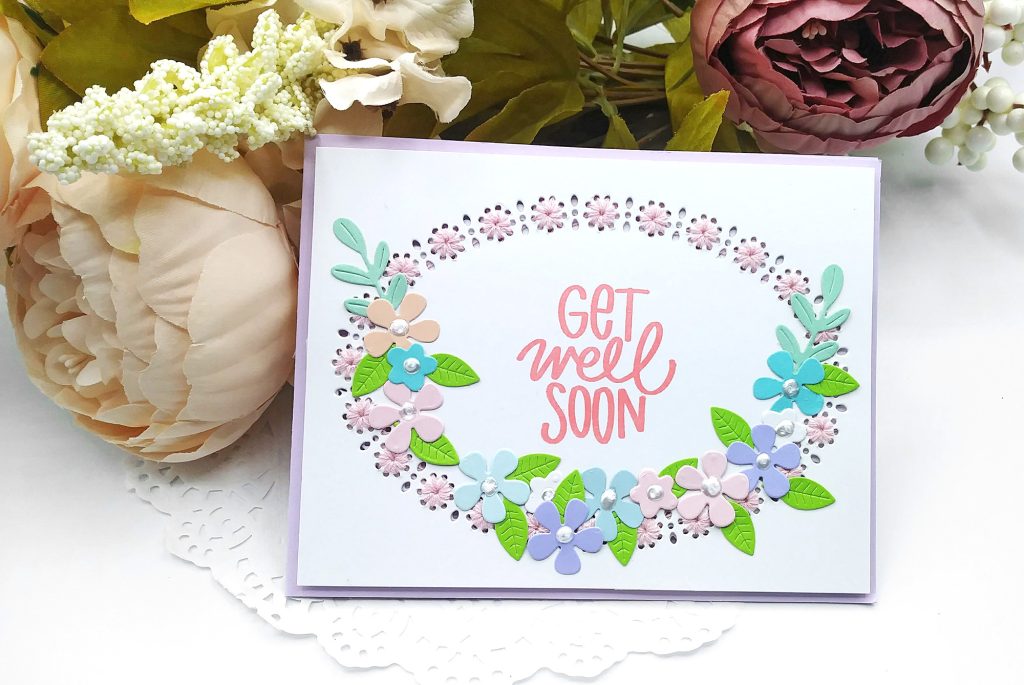 If you're not familiar with Spellbinders Club Kits, I highly recommend checking them out. They have several club kits to choose from and the price points are excellent. It's also fun to get a new die set every month!