I've always loved shopping at Dollar Tree but I have to say they have REALLY upped the crafting supplies in their store! I went shopping there last week and was amazed at all the cute craft items they have so I once again picked up their 3D butterflies stickers. I LOVE these as not only are they wobbly and fun to wiggle on the card but they are large enough to be the showstopper.
I also made some other cards similar but I used the ink coloring direct to paper for the background for those cards here. For these 4 cards, I did the alcohol inks on acetate, which has become one of my favorite techniques! In fact, I've used this when I was in a design "funk" to get my creativity back!
I used all blues and greens alcohol ink colors for all 4 cards which are: Monsoon, Cobalt, Glacier, Stonewashed, Laguna, Moss and Mojito.
I just used some 99% Isopropyl alcohol, Alcohol blending solution along with just dropping in all these colors over 2 heat-resistant acetate sheets. The sheets are 8-1/2 x 11 and I didn't trim them down until after they had completely dried.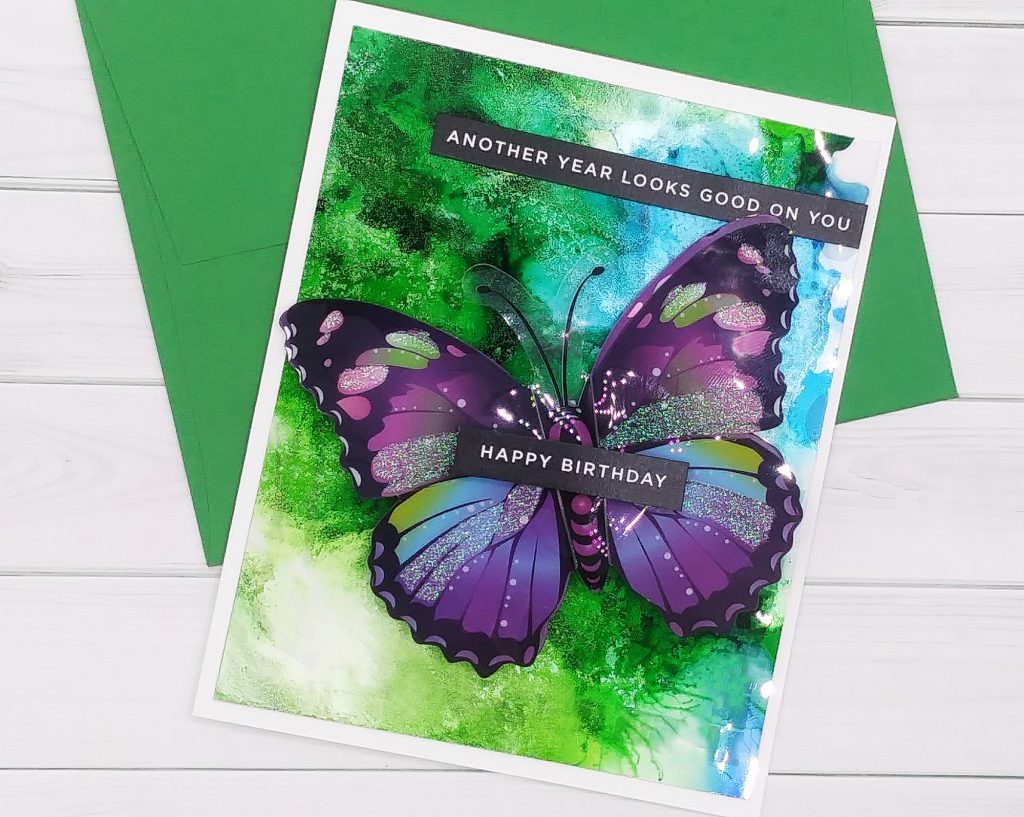 After my 2 acetate sheets dried, I trimmed them down to make 8 A2 card fronts (the other 4 I'm saving for future cards). But, I wanted a white border so I trimmed them down again to 4 x 5-1/4 and adhered them to my card bases.
For the 1st card, I added my purple butterflies on an angle to the left and decided to use CZ Design Simon Says Stamp's Reverse birthday sentiment strips. I used 2 strips for the birthday cards. These sentiment strips are a game changer for my cardmaking as I don't have heat emboss sentiments and they work so well for any occasion card.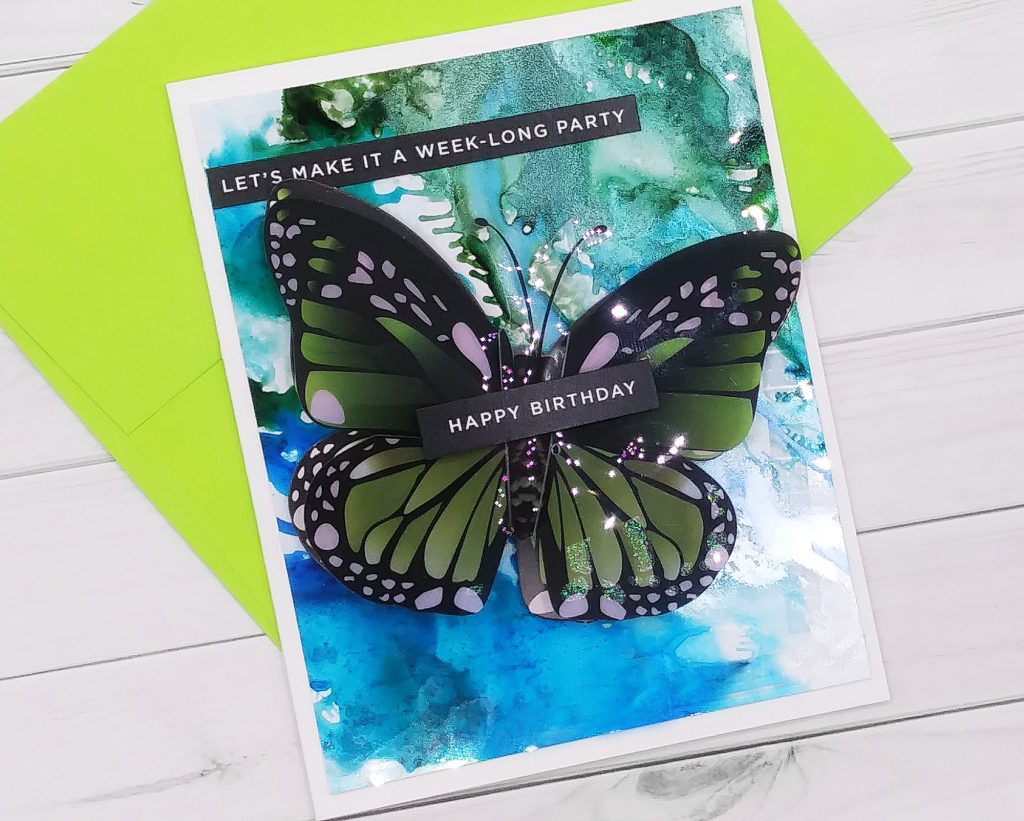 The stickers comes with 1 foam square, but I added more foam squares to ensure the butterflies wouldn't shift.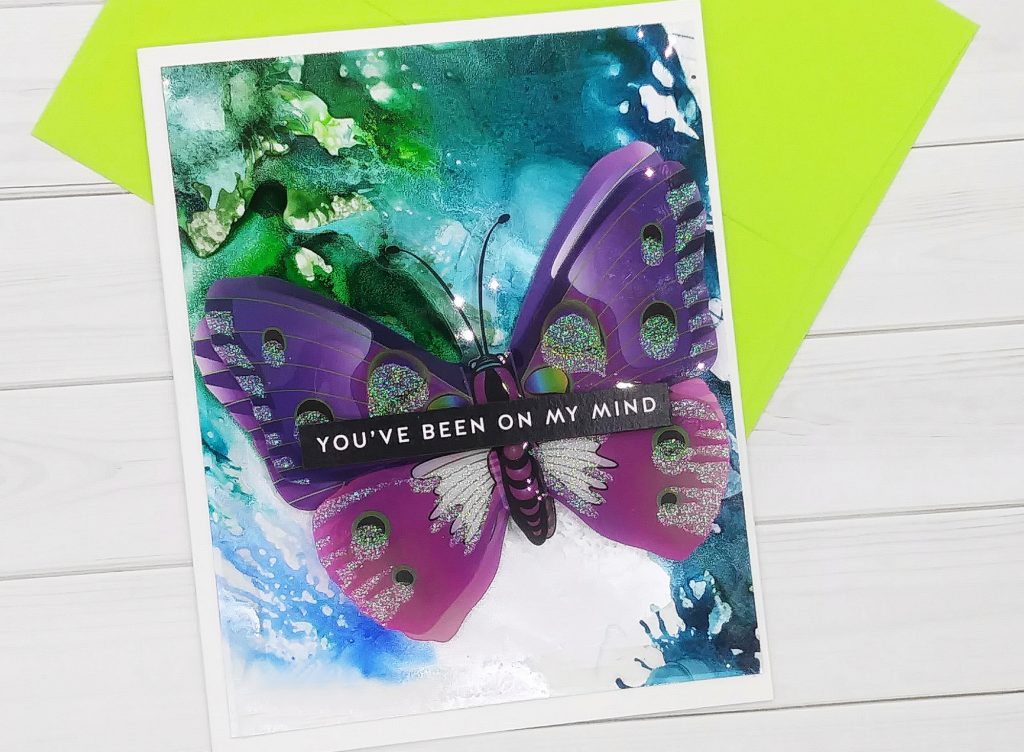 For this card and the one below, I just used 1 reverse sentiment strip to make these more encouraging cards. I wasn't sure if the strip would stick in the center of my butterflies, but I was so determined to make it work so I added small foam tape behind them and it worked!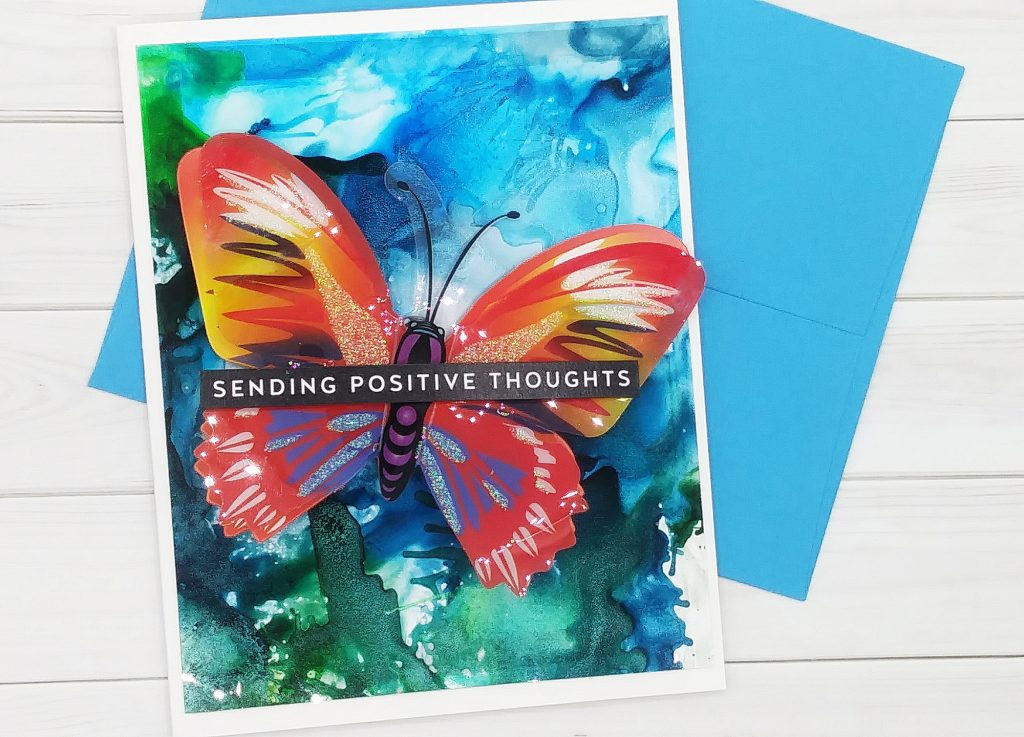 I know this butterfly is a completely different color from the others but I went with it anyway and I have to say, this is one of my favorites in this set. I think the orange and reds really gives a wonderful contrast against the alcohol inked background.
And I love that each butterfly wiggles making these cards fun and interactive. I like playing with my cards too!